Opponent Analysis: Not so 'smooth criminals'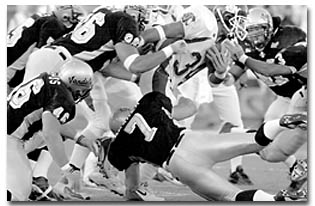 Associated Press
Jordan Kramer of the Idaho Vandals hangs onto the leg of Wahington State running back Dave Minnich as the Idaho'sdefense attempts to make a stop during their game last Thursday.The Vandals lost 36-7.
By By Kamy Shaygan
---
ARIZONA DAILY WILDCAT
Thursday September 6, 2001
Idaho comes to Tucson after blowout loss to Washington State
Idaho junior strong safety Jordan Kramer will try to accomplish something Saturday night his father was never able to.
Jerry Kramer, a five-time All-Pro right guard for the Green Bay Packers, and arguably the greatest football player to come out of the University of Idaho, was never able to defeat the University of Arizona during his playing days as a Vandal from 1955 to 1958.
Saturday's meeting between UA (1-0 overall) and Idaho (0-1 overall) will be the first time the two schools have faced off since Nov. 7, 1964. It will also mark the first time UI head coach Tom Cable, whose Vandals are coming off a 36-7 loss to Washington State last weekend, will meet new UA head coach John Mackovic.
"I'm excited to meet him," Cable said. "He has unbelievable experience. He is definitely someone who has been there and done that."
Although the Vandals are coming off a loss in which their offense only scored seven points, Cable said he is not concerned with what happened last week.
"When we reviewed film (last) Friday, the plan was right," Cable stated earlier this week in a press release. "We just didn't go out and do it. We didn't do anything that was even close to it. That's pretty disappointing.
"You put all the time and work into it and you go out there and don't even show up. Really, I felt like the last two weeks we really had come a long way as far as that is concerned. But we really didn't show up and do that."
The Vandals' offensive charge will be led by senior quarterback John Welsh, who finished last season with over 3,000 yards passing and 22 touchdowns.
"He's had a really good career here at Idaho and we're hoping big things from him," Cable said. "He can do some great things in the course of a football game."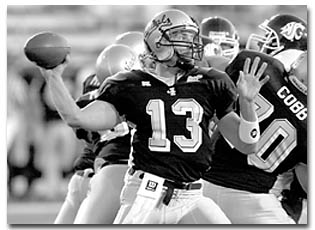 Associated Press
Idaho quarterback John Welsh makes a pass during last Thursday's game againstWashington State at Martin Stadium in Pullman, Washington.
Mackovic said he has nothing but respect for the Oak Forest, Ill. native.
"John Welsh is a good player - there is no question about it," Mackovic said. "He will be one of the quarterbacks in the country the pros are looking at, which proves you don't have to go to one of the biggest schools to be attractive to the pros.
"He has a quick release, and they use a lot of formations so he gets the ball to the receivers quickly."
Welsh will have a variety of targets to choose from on Saturday night. Among his favorites are seniors Chris Lacy and Rossi Martin. Lacy, a 6-foot wide receiver out of San Jose, Calif., led the Vandals last season with 45 receptions for 776 yards.
Martin was the Vandals' second leading receiver last season, finishing the year with 33 receptions and four touchdowns.
Idaho's rushing attack is primarily designed for junior tailback Blair Lewis, who rushed for 50 yards on seven carries along with a 71-yard kick return last week in a losing effort. Saturday night will be Lewis' first as a starter.
The Arizona run, led by sophomore halfback Clarence Farmer, will be the main focus for the Vandal defense, which gave up 264 rushing yards to Washington State last week.
The Vandals will rely on senior nose tackle Will Beck to stop Farmer and the UA running attack.
Last season's Big West co-Defensive Player of the Year had a career high in tackles with 65 and tackles for a loss with 10.
Backing up Beck in the secondary will be Kramer, who was a force last week against the Cougars.
The junior had nine tackles last week in the opener.
Mackovic said he knows the Idaho defense will be designed to stop Farmer.
"They are set up as much as possible to stop the run and force people to pass," Mackovic said. " (They are) playing a lot of match-up coverages."
The Vandals' offensive line, returning only one starter from last season, will have its hands full Saturday night with a Wildcat defense that had seven pass deflections last week against San Diego State.
If only Idaho still had Jerry Kramer.