Wildcats hope to 'Ute'-ilize talent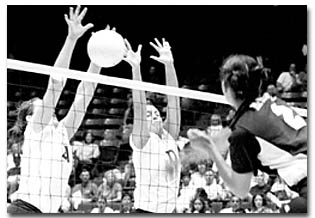 file photo
Senior setter Dana Burkholder and junior middle blocker Stefani Saragosa attempt to block a kill at the net during a match last year in McKale Center.
By Brian Penso
---
ARIZONA DAILY WILDCAT
Thursday September 6, 2001
Women's volleyball opens home season tonight
The defending Pacific-10 Conference Champion UA women's volleyball team opens up its home schedule tonight vs. Utah in the 18th annual Four Points University Plaza Wildcat Classic.
Louisville joins Arizona and Utah as the three teams competing in this year's tournament.
During the tournament's 18-year history, 30 of the 63 teams that have competed have gone on to the postseason.
UA has experienced great success in this tournament with an overall record of 41-8, with 16 championships.
The No. 5 Wildcats (3-0) will be using this tournament to gear up for Pac-10 competition, which begins next week at Stanford.
Head coach Dave Rubio scheduled one of the toughest non-conference schedules in the country, and senior middle blocker Erin Sebbas said the stiff competition the Wildcats face will only benefit the team as the season progresses.
"It is absolutely great to be put up against all of these great teams," Sebbas said. "It will keep us sharp by playing all of these teams throughout the season. It also says a lot about our program that we have such an impressive non-conference schedule. Not many programs can set up matches against so many big -time programs. It just says a lot about everything we have accomplished."
Utah, (3-0), will attempt to do what few non-conference teams have accomplished at McKale Center - the Wildcats are 39-6 vs. non-Pac-10 opponents at home since the coach took over the program in 1992.
"We have already heard from many of our die-hard fans how excited they are for us to begin the season," junior middle blocker Stefani Saragosa said. "When everyone is cheering for you, it makes you feel great and it shows how proud everyone is of you."
Utah comes to Arizona after winning the title at the Utah Classic Tournament, where they defeated Georgia Tech, Rhode Island and Texas Tech.
Utah will look to sophomore middle blocker Kim Turner to try to repeat her MVP performance from the Utah Classic Tournament.
Last season, the Wildcats traveled to Salt Lake City and swept Utah 3-0, but Saragosa realizes how competitive and talented the Wildcats' next opponent is.
"We do not want to play teams that just go through the motions," Saragosa said. "Utah will be a solid test for us. They are a big team that will be a legitimate contender at the end of the season. We just have to push through them and get ready for the big teams ahead."
Senior setter Dana Burkholder will try to continue her success she had last week, where she tallied 102 assists and a .500 hitting percentage.
Along with Burkholder, senior outside hitter Jill Talbot and junior outside hitter Lisa Rutledge will be the main focus of the UA offense.
Rutledge enters tonight's contest as the team leader in kills with 40 and has amassed a .411 hitting percentage.
Backing up Talbot and Rutledge is Saragosa, who has added depth to the UA offensive attack with a 3.75 kill per game average. Saragosa isn't willing to take all the credit for her numbers, however.
"My offensive success is credited to Dana, who moves the ball around, which allows me more offensive opportunities," Saragosa said. "These opportunities also lead to Lisa and Jill having more one-on-one situations. This makes our team much more dynamic, and it also helps us be a better defensive team."
Utah head coach Beth Launiere stated in a press release that she realizes the strength of Arizona's program.
"This weekend's tournament should be another good test for us," Launiere said. "It doesn't get any easier, and we are looking forward to the challenge. It will be great to play Arizona because they are a very high-caliber team. We will learn a lot about our team from that matchup."
First serve is set to take place at McKale Center at 7 p.m.