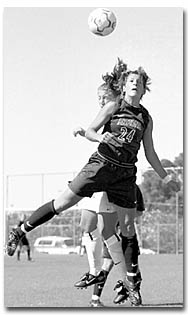 file photo/Arizona Daily Wildcat
Sophomore forward Liz Bartiett attempts a header during a match last year at Murphey Field.
By Lindsey Manroel
---
ARIZONA DAILY WILDCAT
Thursday September 6, 2001
Women's soccer takes on New Mexico, Southern Utah
After a disappointing 4-2 road loss against No. 5 Nebraska Friday night, the UA women's soccer team hosts a double-header this weekend at Murphey Stadium.
The Wildcats will face New Mexico tomorrow night, followed by Southern Utah on Sunday.
Although the matchup against the Big XII Conference Champion Huskers didn't go the Wildcats' way, head coach Cathy Klein said the game was an important lesson for her team.
"That's why we played Nebraska - they are where we hope to be," Klein said. "If we can match that energy, we will be in all (of our) games and surprise some opponents. We did everything we could to be prepared for (tomorrow's) game."
New Mexico - which is coming off of a 1-1 tie against Colgate and a 4-1 loss to Syracuse - is expected to come ready for a fight, according to assistant coach Melissa Estrada.
"It's going to one of those games where it's a battle," she said. "Our kids are going to have to make the most of our chances and just put the ball in the back of the net when they have the opportunity."
The Wildcats are currently 0-1-0, but Klein assures that with a little bit of hard work each day, her team will be ready to compete with any team it faces.
"Our motto is take two steps forward this week so we are as prepared as possible to play New Mexico," she said. "Then, two steps on Saturday to prepare for Southern Utah. Let's just take one step at a time.
"Our girls are as excited as I've seen them to put their best foot forward and show people how we've changed."
If the Wildcats are to be successful this weekend, it's expected that sophomore forward Liz Bartlett will be a big part of the reason. Bartlett - who led the Wildcats in scoring with five goals last season - broke a 3-0 run against Nebraska by scoring the first Arizona goal of the season.
Klein said Bartlett is one of the reasons the coach expects improvement from this year's squad.
"Liz continues to amaze me each day with her toughness and resilience," Klein said. "When we put her up front, she changes the face of the game. Liz changes our team completely. She's the heart and soul of this team."
Klein is hoping that the fan support and home field will give her team a slight advantage. However, she acknowledges that both games will be a strong 90-minute fight.
Freshman defender Lindsey Peeples agreed.
"We're going to have to keep the intensity we had but play our soccer," she said. "We need to get our touch back and show them that we know how to play."
The Wildcats kick off against New Mexico, 7 p.m. tomorrow and 12 p.m. against Southern Utah on Sunday.