Mexican challenge surprises Bush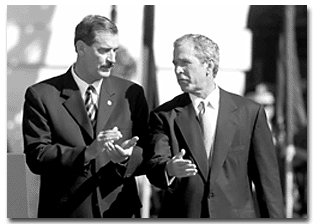 Associated Press
President Bush and Mexican President Vicente Fox talk during the state arrival ceremony at the White House in Washington yesterday.
By Associated Press
---
ARIZONA DAILY WILDCAT
Thursday September 6, 2001
WASHINGTON - Mexican President Vicente Fox, the first state visitor of the Bush presidency, challenged the United States yesterday to strike an agreement on immigration by year's end. President Bush said "there is no more important relationship" than Mexico's but did not embrace Fox's ambitious deadline.
The public challenge surprised U.S. officials who have been trying to lower expectations for a deal on the complex and politically risky issue. Even some Mexican officials said they had no notice that Fox would push for quick action.
The two-day state visit, important to both Bush and Fox, began promptly at 9 a.m. EDT when a military band struck up a Sousa march and the two presidents strolled shoulder to shoulder onto the White House back lawn. Military honor guards stood stone-faced as their battle ribbons, jostled atop flag poles by a cool wind, whipped at their faces.
National Security Adviser Condoleezza Rice says American and Mexican officials will do their level best to reach accord on immigration by year's end.
Bush, hoping to court Hispanic voters for his 2004 re-election bid, said Wednesday's formal welcoming ceremony, one-on-one Oval Office session, rare joint Cabinet meeting and state dinner - along with his and Fox's joint trip Thursday to Ohio - amounted to a "recognition that the United States has no more important relationship in the world."
With all the pageantry a president can muster, Bush welcomed Fox to what he called the "Casa Blanca" and said, "We understand that our two nations must work together in a spirit of respect and common purpose to seize opportunities and tackle challenges on the issues that affect the lives of our citizens, including migration, the environment, drugs, crime, corruption and education."
That included just a glancing reference to the issue that dominates U.S.-Mexican relations: What should be done with the 3 million or so illegal Mexican immigrants who want legal status in America, and millions more in Mexico who want to cross the 2,000-mile border? The president wants an undetermined number of illegal immigrants to become legal.
Bush's trip to Mexico in February raised hopes in both countries that an agreement would come quickly, but the leaders have sounded more cautious in recent weeks as congressional conservatives raised objections.
On the eve of their meetings, Bush said the complexity of the issue bars a quick deal and acknowledged that he has "a lot more selling to do" in Congress. Fox said Sunday it would take four to six years to complete a comprehensive U.S.-Mexican immigration overhaul.
Flanked by Bush in front of the Truman Balcony, Fox seemed to set a more aggressive timetable.
"We must and we can reach an agreement on migration before the end of this very year which will allow us, before the end of our respective terms, to make sure that there are no Mexicans who have not entered this country legally in the United States and that those Mexicans who have come into the country do so with the proper documents," said Fox. His term ends in 2006.
Fox appeared to be calling for an agreement that would be ready for consideration by the respective legislatures of the two countries before the end of the year. But U.S. officials have said that details such as timetables and the numbers of Mexicans who would be eligible have not yet been broached.
Fox believes Mexicans in the United States are not being treated fairly. He says U.S laws should be amended so that migrants receive health, education and labor rights and can work without fear of deportation.
Several administration officials said afterward they would have preferred to avoid the added pressure of a public deadline. The officials, speaking on condition of anonymity, said it is impossible to predict whether a comprehensive agreement can be reached this year, given the unease in Congress and fluidity of the talks.
Bush, asked whether he thought Fox's timetable was too ambitious, pretended not to understand the question and joked in Spanish, "I can't hear."
His national security adviser, Condoleezza Rice, said it would be nice to reach an agreement by year's end, but cautioned, "The president shares the desire to do it quickly, but to get it right." Bush and Fox will release broad outlines of their immigration goals while touring a Hispanic community center in Toledo on tomorrow.
Rep. Tom Tancredo, R-Colo., chairman of the congressional immigration reform caucus, said the prospects are not good for congressional approval of legislation that would legalize undocumented Mexican aliens.
"It sends the wrong message," Tancredo said. People should not be rewarded who "forget about American law, sneak into the country and avoid detection," he said.
Bush has acknowledged such concerns, but nonetheless says it would be in the nation's interest to match hardworking Mexicans with American employers.
Fox's remarks reflected the political pressures he faces at home to strike an agreement with Bush. He hopes to quiet critics in Mexico who say he promised much during his landmark election campaign and has delivered little.
Bush hopes a close relationship with Fox will help him meet his top political goal: expand his support among Hispanics, the fastest growing voting bloc in America.
Fox met privately with Bush and then members of their respective cabinets, ate lunch with Secretary of State Colin Powell, met industry leaders and attended Bush's first state dinner.