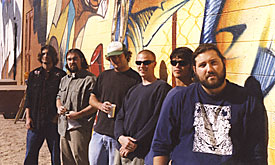 Photo courtesy of David Rothschild

David Rothschild organized this year's Club Crawl and is a member of The Hampton Band. The group performs at the KLPX stage at the Rialto Theatre, 318 E. Congress St., at 10 p.m.

By Kevin Smith and Angela Orlando
Arizona Daily Wildcat
Friday Apr. 19, 2002

Arizona Daily Wildcat

In an attempt to increase attendance, Club Crawl organizers will be allowed to sell 2,500 more bracelets than last year for the popular weekend event.

The city will allow Club Crawl to sell 10,000 bracelets instead of last fall's 7,500. The increase is partially due to the new outside stages, including one outside Plush, 316 E 6th Street, that have been added to this season's venue lineup.
---
Club Crawl 2002 Schedule
The Rialto Theatre 318 E. Congress St.
Midnight: PH-8
11 p.m.: Hair O Smith
10 p.m.: Hampton Band
9 p.m.: Al Foul & the Shakes
8 p.m.: 440s
Zia Mainstage (Rialto Theatre parking lot)
Midnight: Tongue DriedSun
11 p.m.: Shoebomb
10 p.m.: Hipster Daddy-O
9 p.m.: Bad News Blues Band
Hotel Congress (outside)
311 E. Congress St.
Midnight: Liberty School
11 p.m.: Mankind
10 p.m.: Last Call Brawlers
9 p.m.: Red Switch
8 p.m.: Negative Spaceman
Club Congress
Midnight: Al Perry
11 p.m.: Shot Star
10 p.m.: Viva Maria
9 p.m.: The Pork Torta
8 p.m.: Solace Brothers

O'Malley's Backroom
247 N. Fourth Ave.
Midnight: Mockingbirds
11 p.m.: 7 Days of May
10 p.m.: Nevershine
9 p.m.: The Entire Sonoran Navy
8 p.m.: Prana
The Hut
305 N. Fourth Ave.
Midnight: Funky Bonz
11 p.m.: Paste
10 p.m.: Gorilla Behind Bars
9 p.m.: Roadhouse
8 p.m.: ATM
Guidos
424 N. Fourth Ave.
Midnight: Stop Tyler
11 p.m.: 40 B Oz.
10 p.m.: Drive
9 p.m.: Jons
Plush (outside)
340 E. Sixth St.
Midnight: Greyhound Soul
11 p.m.: Four Killer Flats
10 p.m.: Truck
9 p.m.: Chango Malo
8 p.m.: Sassy Star X
Plush (inside)
Midnight: The Beating
11 p.m.: The Stellas
10 p.m.: Panic Over Trainwreck
9 p.m.: Easy Co.
8 p.m.: Dickie Thompson
North
536 N. Fourth Ave.
Midnight: Aggressive Sound Session
11 p.m.: Off White
10 p.m.: Onadi
9 p.m.: Gridlock
Red Room at the Grill
100 E. Congress
Midnight: Libra De Grasa
11 p.m.: Tom Walbank
10 p.m.: Electro Shock Box
9 p.m.: Mono Coco
8-Traxx
213 N. Fourth Ave.
Midnight: Sophia Darling Band
11 p.m.: Le' Donna
10 p.m.: GAZZ
9 p.m.: GAZZ
Land of the Pharaohs
274 E. Congress
9 p.m.: Midnight Cosmic Touch
Dinnerware Gallery
135 E. Congress St.
11 p.m.: Lovebourne
9:30 p.m.: Eight Days in Waiting
8 p.m.: II Webster
Sharks
256 E. Congress St.
Midnight: 115 Down
11 p.m.: Downtown
10 p.m.: Ouiner
9 p.m.: Brillo
8 p.m.: Georgia Asphalt
Che's Lounge
346 N. Fourth Ave.
Midnight: Spacefish
11 p.m.: Nick Luca Trio
10 p.m.: Manifold
9 p.m.: Scratching the Surface
Mac Daddy's
500 N. Fourth Ave.
Midnight: Ash Black
11 p.m.: GAT-ROT
10 p.m.: Flesh Factor
9 p.m.: Fire Engine Red
8 p.m.: Coercion
Vaudeville
110 E. Congress St.
Midnight: Knockout Pills
11 p.m.: Creosote
10 p.m.: Naked Prey
9 p.m.: Ozlo
8 p.m.: Okmoniks
Irene's
254 E. Congress St.
10 p.m.: - Midnight: Samba Malandragem
9 p.m.: David Maldonado
---
"That number was determined after going through different occupancies of different venues, both indoor and outdoor. And, since there are more stages this year, the number went up since last October's Fall Crawl," said David Rothschild, Club Crawl organizer and member of Rialto Theatre headliner The Hampton Band.
This time around, the semi-annual event will feature 80 local bands on 20 downtown stages tomorrow night.
The increase of allotted bracelets in good news to organizers. Since last April's riots on Fourth Avenue, they've faced several policy changes.
"It's a shame that we keep having to come back to the riots, but the ripple effect has created a problem in trying to bring together large community events," Rothschild said.
"Because of the actions of a few, these large gatherings are seen as a detriment to the community, which is simply not true. In fact, they bring revenue. The clubs, through Club Crawl, have their largest night of the year, which is great for Tucson and for the businesses."
Revenue generated from Club Crawl goes to sponsors, especially Tucson Weekly and the Rialto Theatre, and to the bands themselves. Each band earns $100 for the night.
"Each band receives their paycheck and a wristband when they check in to perform," Rothschild said.
Brent Kort, lead singer of participating bands Funky Bonz and Mono Coco, doesn't see much waste in buying a wristband.
"It's getting to see the best bands in Tucson perform their best material in 40 minutes," Kort said.
This is Tucson's largest live musical event and attracts mobs of people, which can lead to buzz-killing lines outside venues.
"We understand lines are a problem," Rothschild said. "A lot of people who are dealing with the lines are usually getting there pretty late. I think somewhere between 9 and 10 p.m., you won't see as much (lines). It's all about thinking in advance and being prepared. Have your wristbands in advance."
This readiness, he added, can cut line-waiting time in half.
The long waits outside venues of people without wristbands has prompted organizers to increase admission price at the door from $5 to $7. Wristbands purchased in advance will remain $5.
"This is to encourage people to buy them in advance, because it's really hard for the venues to be selling wristbands and it causes backup outside," Rothschild said.
As a musician, Kort said he looks at crowds as a blessing rather than an obstacle.
"The only problem I've ever heard in the past," Kort said, "which is a great problem for musicians, is that there is a line outside of every door for 45 minutes to an hour. If that's the biggest problem, well, they're doing a great job."
Many of the bands performing are local troupes that don't usually get the amount of exposure that Club Crawl provides.
Paul Patron, vocalist and guitarist for The Aggressive Sound Session, said he finds it enriching to turn people on to Tucson's underground music scene.
"A lot of people don't realize how much stuff is actually happening behind closed doors and underground in Tucson," he said. "(Club Crawl) opens everybody's eyes up to the bands that are here, and then maybe they (the bands) will have a following."
Kort finds opportunity and affirmation for local bands involved in Club Crawls.
"It's rare that Tucson musicians get to get up in front of 200 to 500 people unfortunately," he said. "It's not because we suck and can't bring them in; it's just that the hype up around this night really brings people out."
Rothschild sees this year's Club Crawl as an opportunity to send a message to the city.
"Let's show the Tucson community that people can congregate in large amounts and have fun and be civil," Rothschild said.
Wristbands for tomorrow night's Club Crawl can be purchased at any Zia Record Exchange location or at participating club doors. Purchasers of wristbands must be 21 or older.
"The policy is that all the venues are checking IDs, even if you have a wristband," Rothschild said.
Performances begin as early as 8 p.m. tomorrow night and will last until 1 a.m.