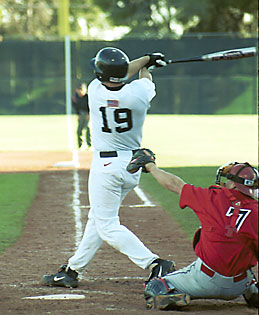 KRISTIN ELVES/Arizona Daily Wildcat

UA senior Chris Cunningham follows through on a swing against Southern Utah earlier this season at Sancet Field. The Wildcats begin a three-game set with California Riverside tonight at 7.

By David Stevenson
Arizona Daily Wildcat
Friday Apr. 19, 2002

Arizona finishes out its break from the Pacific 10 schedule beginning today with a three-game series against California Riverside.

The Wildcats have enjoyed their week-long vacation from the schools and have regrouped for the remainder of conference play.

"It's been nice to catch a breather from the tough competition and gather ourselves for the second half of the season," catcher Chris Cunningham said.

It's also been a time for the injured Wildcats to heal.

Right fielder Jeff Van Houten did not play in Tuesday's 17-8 win against Grand Canyon University because of a sore wrist he injured on March 22.

Third baseman John Hardy was hit on the hand by a pitch on Tuesday but finished the game.

He did not take batting practice the following day. Both are listed as day-to-day but are expected to play in this weekend's series, said assistant coach Mark Wasikowski.

Cunningham emerged as UA's top slugger when he hammered his team-leading ninth home run on Tuesday. The senior is hitting .235 with 35 RBIs and slugging .511.

"I hardly consider myself the muscle man just because I hit a couple balls out," he said. "My average is terrible and I need to get that up."

Freshman outfielder Chris Marini sported a freshly shaved head Tuesday. Marini "biced" it because of a botched haircut attempt by his roommate, Van Houten.

"I like it because it feels a lot cooler," Marini said. "It's only hair, so it'll grow back soon."

The game, the first of two night games this series, starts at 7 p.m. Tonight's game will be the third of the six scheduled evening home games for the Wildcats this season.

"A night game helps me feel relaxed. You don't have to rush to be at the field right after class. Instead, you can relax a little bit, get a bite to eat and focus on the game at night," Marini said.

The Highlanders (22-17, 3-6) have a team average of .292 led by Adam Seuss (.390) and Tony Festa (.388).

Sophomore Sean Rierson will take on Chris Smith tonight while new tomorrow starter sophomore Marc Kaiser will face AJ Shappi. Sunday southpaw Joe Little takes the hill against Julio Fernandez.

Tomorrow's game begins at 7 p.m. and Sunday's starts at 1 p.m. All games are at Sancet Field.