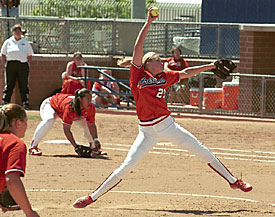 JON HELGASON/Arizona Daily Wildcat

Senior Jennie Finch (27) winds up for a pitch as freshman Jackie Coburn, left, and sophomore Leneah Manuma, far left, anticipate the play last month against Louisiana-Lafayette at Hillenbrand Stadium. The Wildcats defeated Oklahoma State and Oklahoma on Tuesday and Wednesday, respectively, during their mid-week Midwest swing.

By Dan Komyati
Arizona Daily Wildcat
Friday Apr. 19, 2002

Slowly but surely, the Arizona softball team is starting to look more and more like the squad that earned its sixth NCAA championship a year ago.

Backed by dominant pitching, a patient and timely offense has carried the No. 1 Wildcats to five straight victories on its current 10-day road trip.

UA will attempt to complete the season-long road swing undefeated when it visitsthe Bay Area for a contest with No. 3 Stanford (33-7 overall, 4-4 Pacific 10) and two matchups against No. 8 California (39-14- 5-4) this weekend.

After a three-game sweep in Oregon, Arizona (40-5, 7-1) knocked off Oklahoma State and No. 11 Oklahoma in two close midweek contests during the Farm Bureau Softball Challenge in Oklahoma City.

UA's standout pitching duo of sophomore Jenny Gladding and senior Jennie Finch failed to miss a beat this week in the familiar confines of ASA Hall of Fame Stadium - home of the College World Series.

Gladding struck out 12 batters Tuesday night to hold off the Cowgirls, 4-2, and earn her 17th victory of the season. UA took advantage of an OSU error to score twice in the seventh inning and was paced offensively by Finch's 2-for-4 effort, including an RBI single. The Wildcats replayed last year's College World Series classic with Oklahoma on Wednesday.

The two teams battled to an extra-inning thriller for the second year in a row. In nine innings, Arizona managed to hold off the Sooners, 1-0, to finish off what it hopes to be the first of two undefeated trips to Oklahoma City this season.

In posting her 15th shutout of the season, Finch (23-1) was virtually flawless in the circle, striking out a career-high 19 batters while allowing just three hits. Junior shortstop Lovie Jung delivered an RBI double in the top of the ninth inning to score freshman center fielder Crystal Farley, which accounted for the game's only run.

This weekend, head coach Mike Candrea said he knows things will not get any easier for his Wildcats as they revisit conference play and perennial Pac-10 powers Stanford and Cal.

"We're definitely finding a way to win right now, and this is another big weekend for us," Candrea said. "We just need to keep playing hard. When you get into games of this caliber, it comes down to who makes a mistake."

After reeling off seven straight road victories, Arizona will attempt to sweep the Bay Area schools on the road for the second straight year.

Finch earned all three victories last season, and the reigning national player of the year has been as dominant as ever since having her NCAA record 60-game winning streak snapped two weeks ago.

In three straight victories, Finch has yet to allow a run in 23 innings pitched. In that same span, the All-American righty has allowed just nine hits while striking out 39 batters. Even more impressively, her most recent masterpiece came against the same Oklahoma club that scored four runs off of her a year ago to almost knock the Wildcats out of last year's College World Series.

Candrea said with the way his two aces are throwing, he hopes to see more of the same this weekend from his top-ranked Wildcats.

"We just need wins - I don't care how we get them," Candrea said. "We need to eliminate the mental and physical mistakes and compete hard and take care of the things we do well.

"Hopefully (this weekend), things are nothing different."

Arizona faces Stanford at 2 p.m. today before afternoon contests at Cal tomorrow and Sunday.