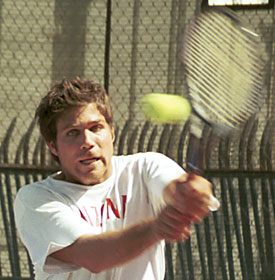 MATT CAPOWSKI/Arizona Daily Wildcat

Arizona senior Steven Capriati hits a backhand yesterday against Cal Poly in his final home match as a Wildcat. The Wildcats beat the Mustangs 7-0 to keep their postseason hopes alive.

By Brian Penso
Arizona Daily Wildcat
Friday Apr. 19, 2002

Senior day at the Robson Tennis Center could not have gone any better for the UA men's tennis team.

Cal Poly came to the Old Pueblo looking to spoil the day for Arizona's three seniors, but the Wildcats shut out the Mustangs, 7-0, to end their home season schedule on a high note.

UA faced a challenge going into the match as its No. 2 player, sophomore Whi Kim, was a late scratch with a sore back.

The rest of the Wildcats stepped up in Kim's absence and came together to blow by the Mustangs.

"It was nice to be able to win even though we did not have Whi," UA head coach Bill Wright said. "We have been practicing a lot, and to be honest, we are sick of playing each other. This match gave us a chance to play different opponents. It was good preparation for ASU."

Senior Steven Capriati won his final home match in straight sets.

"It was good to go out with a win," Capriati said. "I didn't play as well as I would have liked, but I was glad that we all came out and played so well. It was really nice to end the season at home with a 7-0 victory."

Now, the real test starts for the Wildcats.

UA travels to Tempe to take on in-state rival Arizona State with its postseason aspirations on the line.

The Wildcats are currently 9-11 overall and 1-8 in the Pacific 10 Conference, which makes them a bubble team for the postseason.

According to Capriati, a win over No. 38 ASU would put them into the postseason.

In their last match together, ASU defeated the Wildcats 4-3, which Capriati said will motivate UA to come out and try to even the season series.

"It is a redemption match for us," Capriati said. "Coming into the season we could sweep the series from them, but that did not occur. More importantly, we need to win this match to move on. If we lose, our season is over. Everyone is going to have to come out on all cylinders."