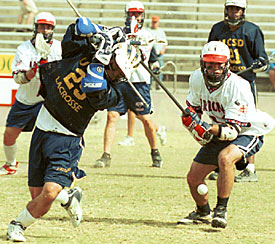 file photo/Arizona Daily Wildcat

A Laxcat gets tangled up with a University of California San Diego opponent earlier this season at Laxcat Field. Arizona begins its postseason tomorrow against Chapman University at 1 p.m. at Rincon Vista Field.

By Charles Renning
Arizona Daily Wildcat
Friday Apr. 19, 2002

The No. 7 Laxcats open the Western Collegiate Lacrosse League playoffs tomorrow at 1 p.m. against Chapman University at Rincon Vista Field.

UA will look to get back to its winning ways after a 20-9 loss to top-ranked Sonoma State in Sonoma last weekend.

"A loss is never a good thing," head coach Adam Hopkins said. "But it might have focused us more on our ultimate goal."

The Laxcats (13-2, 6-0) concluded the regular season as the second-ranked team in the WCLL and won the South Division regular season championship. UA's only two losses this season came to Sonoma State and Cal Poly San Luis Obispo.

After the Laxcats' loss to Cal Poly SLO, they won six straight games, including wins over No. 6 University of California Santa Barbara and No. 15 Colorado. And, the team is looking to put a similar winning streak together after its most recent defeat.

"After our last loss, we went on a run and won six straight. That is what we need heading into the playoffs. It will get us geared up and (let us) know what we need to do to win a national championship," junior defenseman Jeff Kinsella said.

The team's goal is to not only win a national championship but also the WCLL crown.

The winner of the WCLL playoffs receives an automatic bid into the United States Lacrosse Intercollegiate Association national tournament. However, even if the Laxcats don't win the WCLL championship, it is very likely they will get an at-large bid to the USLIA Nationals in St. Louis because of their success this season.

UA has seen great success in the WCLL, one of the toughest leagues in the country, this season. Currently, six out of the top 10 teams in the nation play in the WCLL, and Hopkins said, Chapman is no exception.

"They are a scrappy team with good scorers," Hopkins said.

Chapman (7-7, 2-4) comes into the WCLL quarterfinal game with a new life. At the beginning of the week, it was believed the the Panthers were eliminated from any possibility of making the playoffs. However, Loyola Marymount University was forced to forfeit its early season game with Chapman because an ineligible player participated. This placed three teams (Chapman, Loyola Marymount and the University of California San Diego) in a tie for the fourth and final playoff spot. Chapman was awarded the spot through a point differential tiebreaker.

"The biggest danger with Chapman is that they have nothing to lose," Hopkins said.

Arizona and Chapman met once this season in late February. The Laxcats won 12-10 in Chapman. UA was able to jump out to an early 6-1 lead over the Panthers in their first meeting but were outscored by Chapman in the second half.

This will be key to the Laxcats' success.

"If we let them in the game early, then we are in for a dog fight," senior defenseman Brent Richey said. "We need to shut them down early."

Shutting down the Panthers' high-scoring offense will be a big challenge for the Laxcat defense. Chapman boasts three of the top five scorers in the WCLL, including WCLL points per game champion Daniel Metoyer. UA will counter with a strong defense and an equally impressive attack unit.

Chapman also comes into Tucson riding a three-game winning streak after beating San Diego State University last weekend 24-10.

The winner of the game will move on to the WCLL final four in San Diego next weekend and face the winner of UCLA/Santa Barbara game.