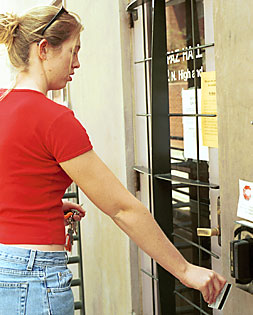 EMILY REID/Arizona Daily Wildcat

Political science sophomore Jennifer Little, a resident of La Paz Residence Hall, enters the dorm yesterday afternoon. Security at La Paz is being tightened after a man attempted to sexually assault a resident in a shower Tuesday night.

By Arek Sarkissian II
Arizona Daily Wildcat
Thursday Apr. 25, 2002

Security being tightened at La Paz, some students see little point in tighter measures

An attempted sexual assault took place in a residence hall shower Tuesday evening, the fifth sexually related incident in a week to occur in a dorm bathroom.

The incident happened at about 7:30 p.m. Tuesday, when a man wearing a ski mask entered a women's restroom in La Paz Residence Hall and attempted to sexually assault a resident as she was showering, said University of Arizona Police Department Cmdr. Brian Seastone.

On Saturday evening, a Manzanita-Mohave resident was confronted by a Tucson man, Esteban Rodriguez, who was arrested that evening by UAPD officers at his home on the west side of Tucson.

Rodriguez is also a suspect in an incident April 17 when three females reported that he was watching them as they showered. One female also reported that Rodriguez touched her right buttock.

As of yesterday evening, Rodriguez was still in Pima County Jail, held on $50,000 bond.

Seastone described the man in Tuesday's incident as 5 feet 9 inches tall, with a thin build and blue eyes and dark clothing.

UAPD security officers were assigned to a foot patrol of all campus residence halls last night. Seastone said UAPD was working closely with Residence Life to restore a sense of safety to all residents.

Maintenance workers were working on tightening security in La Paz yesterday by updating the key system.

Residence Life Director Jim Van Arsdel said a majority of the exterior doors of the building used to have a delay time of up to 1.5 minutes before the alarm went off, but all doors now have only a 20-second delay.

Last night, a few students assured themselves by manually closing the main door, but many unlocked the door with their key card and didn't even look back.

Behind one student, another younger male ran to catch the door before it closed.

Van Arsdel said the doors have to be on delay timers for wheelchair-users who stay in the dorm.

On Saturday evening, Van Arsdel implemented a 24-hour lockdown, in hopes of allowing only residents who live in the residence halls to enter the building. Officials hope this will reinforce the Residence Life policy that residents must always escort their guests out of the building.

Van Arsdel stressed the need for students to be aware of their surroundings when opening an exterior door, as someone may try to coattail behind them.

He also said residents should always question someone who doesn't look like they should be there.

Mike Garduno, a resident of La Paz and business freshman, said questioning every non-resident would be time consuming.

"It's just a pain in the ass," Garduno said.

Business freshman Neal Liebner agreed with Garduno, saying the new security measures set by Residence Life were useless.

"The security is all an illusion. Anyone is going to be able to get in," said Liebner, who is also a La Paz resident.

Seastone recommended that any resident who sees a suspicious person in a residence hall call 911.

Van Arsdel said Residence Life has met with the university's more than 200 resident assistants and asked them to stay aware, especially during the hours when fewer residents are around the dorms.

"Hopefully, in this context, all of the RAs will step up," he said.

Van Arsdel said that although security measures have been increased at all dorms, students are held just as responsible as the university in maintaining safety.

"Keeping the building locked down is only as effective as the students make it," he said.

One resident said she felt that of the 482 residents who live in the dorm, only half of would be more aware after the incident.

"Some people will care, and some will just keep doing what they were doing," said Tamara Spindler, an undeclared sophomore.