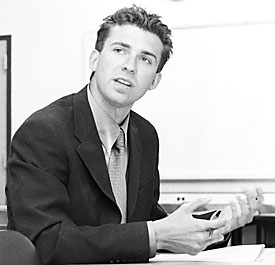 DAVID HARDEN/Arizona Daily Wildcat

President-elect Doug Hartz, addresses ASUA members last night in the Harvill building at the final meeting of the semester. Hartz and the other two incoming executive officers will make $250 less than their counterparts this year, a move he said would help ensure that money was not cut from student services.

By Kaila Wyman
Arizona Daily Wildcat
Thursday Apr. 25, 2002

Executives will each make $250 less than this year

Next year's ASUA executive officers will be taking $250 pay cuts under salary proposals passed last night by the senate.

The senate approved total stipends of $81,900 for next year's three executive officers and about 70 of their advisers, as well as the 10 incoming senators. That number is about $5,000 lower than this year's total.

Associated Students of the University of Arizona President-elect Doug Hartz cut $1,450 from last year's presidential cabinet stipends, including a $250 cut from his own salary.

"We have a lot of budget cuts, and I want to make sure that it doesn't come from taking away from the students," Hartz said.

Although the president's stipend was cut from $6,750 to $6,500 this year, the stipend increased by more than $1,700 last year.

Hartz said last year's jump in pay occurred because the senate believed the president did a tremendous amount of work for the money he received. He said that at Washington State University, the student government president earns about $19,000.

Stipends for the president and his 18-member cabinet total $24,450.

Of the cabinet spots, the special events coordinator took the largest cut at $400 - dropping from $1,400 to $1,000.

Executive vice-president elect Jennifer Reece - who will oversee club affairs and the appropriations board - cut $2,400 from her department's stipend budget, dropping the total for herself and her 18 advisers to $14,300.

Reece cut $250 from her own stipend, bringing it to $4,750. Like the president, the executive vice president received a large increase last year.

The largest cut from her department was a subtraction of $1,000 from the philanthropy task force director - dropping the stipend from $1,500 to $500.

The club events coordinator, which was added this year, will receive $700.

"I have a lot of good ideas for this director although, because it's a new position, I don't want to give too much," Reece said.

Stipends for each of the 10 senators were cut by $200, from $1,300 to $1,100. Reece wants to redirect the $2,000 saved in this area to student programs.

"We're suffering a budget shortfall, and I think that if any amount needed for students is taken from senate, so be it," said Senator-elect Adam Bronnenkant.

Stipend proposals for the nine assistant Spring Fling directors caused the most discussion, when two senators and Administrative Vice President Tricia Williams pushed to increase the stipends from $900 to $1,000.

This "friendly amendment" failed in a 3-6-1 vote, which kept next year's stipends for Administrative Vice President-elect Jered Mansell and the 29 paid programs and services officials - who Mansell oversees - at $32,150.

This plan reduced total programs and services stipends by $1,300. Mansell also decreased his stipend by $250.

The senate also unanimously approved just over $24,000 in funding for summer governance last night. Of that figure, about $11,500 is being used to operate SafeRide.