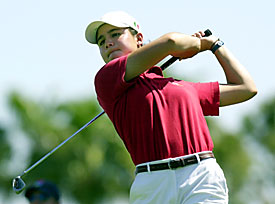 file photo/Associated Press

Arizona sophomore Lorena Ochoa holds her follow through on the fifth tee during the final round of the Kraft Nabisco Championship Sunday March 31, 2002 in Rancho Mirage, Calif. Though Ochoa finished second, snapping her NCAA record win streak, the Wildcat women's golf team won the Pacific 10 Conference Championships yesterday in Walla Walla, Wash.

By Jeff Lund
Arizona Daily Wildcat
Thursday Apr. 25, 2002

It was a bittersweet afternoon for Lorena Ochoa yesterday in Walla Walla, Wash.

Ochoa, the defending Pacific 10 Confrence individual champion, failed to defend her title but still helped the Wildcats win their third straight Pac-10 Conference team crown by an eight-stroke margin over UCLA.

Ochoa, who started the day in second place, could not pull together a late rally and came up one stroke short of the lead.

The loss ended a streak of seven straight individual victories for the sophomore. UA head coach Greg Allen said although Ochoa may have lost, her presence was key in the team winning the team title.

"Lorena is upset, especially because she plays with so much emotion," Allen said. "But winning the team title is a nice consolation for her. Having the streak stopped takes some pressure off of her. Now, she can simply focus on the last two tournaments and on helping the team win the national championship."

Ochoa came into the final round one stroke behind UCLA's Yvonne Choe and ended the round-one shot behind Jimin Kang of Arizona State. Choe shot a self-destructing four-over-par 76.

It was the inconsistency of other teams - especially UCLA - that allowed UA to walk away with its fifth title in six years.

As second-place UCLA had its ups and downs from the opening round, Arizona held a steady lead with the scores of Ochoa and junior Laura Myerscough, who finished in a fourth-place tie.

Allen said Myerscough's play was integral to the team's victory.

"I'm especially proud of Laura Myerscough," Allen said. "For her to bounce back after such a tough start is impressive. Her performance after those first three holes was very important for the team."

Another welcome performance came from freshman Mar Garcia.

Allen had said prior to the championships that when Garcia is healthy, Arizona is tough to beat. Garcia placed 22nd, just the type of solid performance the Wildcats needed to fend off the Bruins.

Allen said Arizona's latest title and recent dominance in such a competitive conference speaks volumes about the quality of the program in Tucson.

"I am proud of these golfers for grinding it out and winning the conference title," head coach Greg Allen said. "Our success is a testament to the program that we have at the University of Arizona."