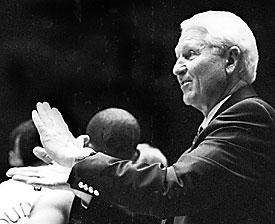 SAUL LOEB/Associated Press

Arizona head coach Lute Olson claps during a game last season against Southern California in McKale Center. Olson is nominated for the Naismith Memorial Basketball Hall of Fame this year.

By Staff and Wire reports
Arizona Daily Wildcat
Thursday Apr. 25, 2002

Maybe another appearance in the Sweet 16 will propel Lute Olson to be enshrined in the basketball hall of fame.

Olson, head coach of the men's basketball team, heads a list of 14 players, coaches and contributors, and one team selected yesterday as finalists for enshrinement into the Naismith Memorial Basketball Hall of Fame.

An announcement regarding the Class of 2002 is scheduled for June 5 at the Biltmore Hotel in Los Angeles.

This is the third consecutive year that Olson has been a finalist.

Olson is coming off a season in which he guided the Wildcats to a 24-10 record, the Pacific 10 Conference Tournament championship and a berth in the NCAA Tournament's West Regional Semifinal.
---
Hall of Fame Coaches nominee's

Larry Brown

Lefty Driesell

Lute Olson

Bill Sharman

Eddie Sutton
---
In 1997, Olson led Arizona to the NCAA championship and he coached the Wildcats to the Final Four in 1988, 1994, 1997 and 2001.
Olson, who is the seventh-winningest active Division I coach, holds the distinction of being one of eight coaches in college history to coach in five or more Final Fours and is one of 11 coaches who have taken two different teams to the Final Four.
Under Olson, Arizona's 18 consecutive NCAA Tournament appearances is the longest current streak in college basketball and is the second longest in NCAA history.
Arizona has been to the NCAA Sweet 16 nine times in the last 15 years. Olson was named national Coach of the Year in 1988 and 1990.
Along with Olson, the list of finalists include players Earvin "Magic" Johnson, Maurice Cheeks, Adrian Dantley, Bobby Jones, Chet Walker and James Worthy; coaches Larry Brown, Lefty Driesell, Bill Sharman and Eddie Sutton; contributors Jerry Colangelo, Junius Kellogg and Tex Winter and one team- the Harlem Globetrotters.
Johnson, Colangelo, Driesell, Sharman and Sutton are first-time finalists; the other candidates have previously been reviewed by the Honors Committee.
In addition, the Harlem Globetrotters are the first team considered since 1963, the last year the Hall of Fame enshrined a team (New York Rens).
The 14 finalists and one team were selected from 57 North American candidates and are the last of four groups selected for consideration by the Honors Committee for election into the Basketball Hall of Fame.
Previously, the Basketball Hall of Fame's Veterans Committee had selected coach Forrest Anderson, contributor Grady Lewis and player Earl Lloyd for consideration; the International Committee passed on Pedro Ferrandiz, Dino Meneghin and Drazen Pretrovic and the Women's Committee recommended Harley Redin, Cathy Rush and Kay Yow.