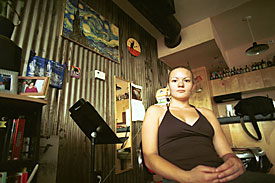 RANDY METCALF/Arizona Daily Wildcat

Liberal studies freshman Melissa Malmstedt lives in the building where Henry Electric used to be located. Malmstedt said people still walk in thinking her house is an electrical store, even though it has been closed for more than two years.

By Jessica Suarez
Arizona Daily Wildcat
Thursday Apr. 25, 2002

Before you cruise down to the nearest Big Huge Apartment Megaplex to find your living space for the next couple of semesters, let it be known that there are alternatives.

If you can live without on-site tanning beds, an Olympic-size pool, and pre-installed furniture that brand-new apartment complexes provide, you might be able to find an older Tucson residence that makes up in style what it lacks in physical fitness amenities.

Converted and historical apartments not only save Tucson's historical properties, they also save time. Imagine: Instead of having your easily confused friends wander all over the eight-building, 310-apartment complex searching for your apartment number, you could tell them to look for the place that looks like a castle, or the place with the big "Henry Electric" sign.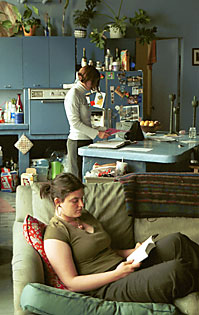 DEREKH FROUDE/Arizona Daily Wildcat
Lauren Benz reads while her roommate Jessica Hansen makes tea in the kitchen at their apartment yesterday above Grill, off Congress Street.
With a little patience and the time to search around Tucson's historic downtown and university areas, you may be able to achieve the ultimate in recycling: a place that had been many, many things before it became a place for you to call home.
Lauren Benz and her four roommates live in the mostly commercial downtown area, just above the newly opened bar Vaudeville Cabaret and the all-night diner, Grill. Their loft-style apartment, which has been a graphic design studio and a recording studio, has a few problems other apartments don't.
There is no heating system, no central cooling system, no residential garbage service, no mail service and no parking for her and her roommates.
"We've been in contact with the parking and garbage people. They haven't even thought about it yet," she said. "They have no answers for us."
Benz and her roommates also hear noise from the bar below them every night until 1 a.m. Sometimes, they hear the bar's patrons even longer.
"(Monday) night, people were screaming until 2 a.m.," said Benz. "They were so loud and so drunk."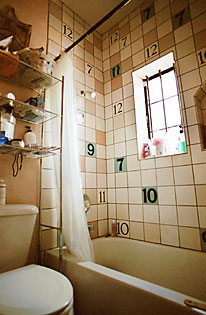 RANDY METCALF/Arizona Daily Wildcat
Swimming pool tiles are reincarnated as a bathroom shower at Henry Electric apartments. Right, Benz drops the keys to their loft apartment down to Hansen.
But the benefits of living in their apartment are numerous. The open architecture has allowed the roommates to host parties with up to 600 guests, with space left over to allow bands to perform.
The location, which is adjacent to what used to house Tucson's Southern Pacific Railroad headquarters, provides a good view of the downtown area.
Finally, Benz, who found the apartment along with one of her current roommates and then found others to live with them, knows she's found something unique.
"You're never going to find another place like this," said Benz, who will return to UA this fall as an anthropology student.
Henry Electric Apartments, just across the street from the Buffet on Ninth Street, is another converted apartment space. A former electric store opened in 1935, the building was divided into four separate apartments two years ago.
The contractors that renovated the building left the original, polished, concrete floors, while installing industrial-looking corrugated steel walls to the main room and recycled pool tiles to the bathroom.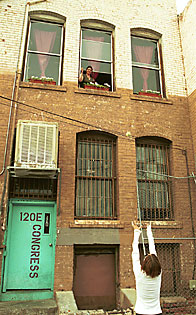 DEREKH FROUDE/Arizona Daily Wildcat
Benz drops the keys to their loft apartment down to Hansen.
They also left the original Henry Electric sign out front, which can invite some confused visitors to the property. Residents have come out of their bedrooms to find elderly men browsing through their belongings, looking for electrical supplies.
"Almost every single day, people walk in," said Melissa Malmstedt, an undeclared freshman and Henry Electric resident.
"People come in holding electrical stuff that's broken," she said, adding, "It's alright, as long as you lock your doors."
Rincon Apartments, located on North Sixth Avenue and East University Boulevard, are older apartments that boast the kind of early 20th century architecture one won't find in brand-new places.
"It's the very first apartment building built in Tucson. It was built in 1908," said owner and manager Margarete Sokser.
"All together, there are 40 units, while the historic building has 17 units in it," she said, noting that over the years, there has been a fair mix of student and non-student residents. Each apartment has wood floors, high ceilings and a fireplace.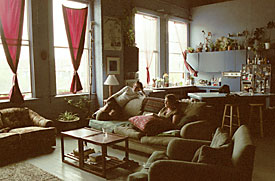 DAVID HARDEN/Arizona Daily Wildcat
Jessica Hansen, left, and roommate Lauren Benz relax in their loft apartment yesterday afternoon. They found the apartment together, then began looking for other roommates to occupy the warehouse-sized space.
Another apartment building in the university area, the Castle Apartments, on the corner of North Euclid Avenue and East Adam Street, was a hospital, tuberculosis sanitarium, nursing home, convent and vacation lodge before becoming an apartment building. The building, which was originally built in 1906, has 32 apartments and is mostly occupied by upperclassmen and graduate students, according to owner Kathy Busch.
Castle resident Becky Blacher said living in a small complex owned by one person instead of a company made it possible for her to have an art show there when another space fell through.
Blacher, an art history senior, also believes that larger, company-owned apartment complexes would not have allowed her to have the show, titled "One Night Stand," on their property.
"Kathy was really excited," she said about talking to her landlord in preparation for the show, which will have its opening 6 p.m. to 9 p.m. tomorrow in Castle's lobby.
"She's so cool. What other landlord would let you put holes in cement walls?" Blacher said.