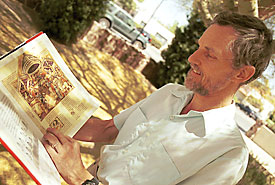 DEREKH FROUDE/Arizona Daily Wildcat

Albrecht Classen, professor of German studies, takes some time out of his busy schedule to read outside the Modern Languages building yesterday morning.

By Paul Iiams
Arizona Daily Wildcat
Thursday Apr. 25, 2002

Ah, spring is in the air. It's time for young love, intense Tucson heat, community outreach, and poetry readings in archaic, foreign tongues.

Eight professors from several university departments will perform poems and songs in foreign languages tonight at the Medieval and Renaissance Spring poetry reading, in an effort to touch the general community.

The performance will take place from 6 p.m. to 8 p.m. in the Education building's Kiva Auditorium. Twenty minutes of music will precede and follow the poetry.

Part of a major outreach program by the University of Arizona Medieval, Renaissance and Reformation Committee (UAMARRC), the reading is intended to be fun and educational.

The poetry will be read in its original languages, such as Middle German, Latin and early French, with written translations provided in a program.

"Nobody really knows the authentic languages," said Albrecht Classen, event organizer and professor of German studies. "We thought it would be great for people to get an idea of what it really sounded like."

A variety of literature, including love poems, verse narratives and romances will be performed, all with a specific and timely topic.

"We picked a theme - spring - and it will be a reading of (both) medieval and early modern poems," Classen said.

While the event is designed to be light-hearted and enjoyable, Classen said he hopes it will also be academically beneficial.

"I hope to appeal to students," he said. "We want them to understand that to get new knowledge, they need to know new languages."

Students, however, are not the only people Classen said he wants to reach with its performance. UAMARRC gives seminars for senior citizens and alumni. Classen said he hopes everyone who can attend, will.

Although the committee has conducted local conferences in the past, this is the first time performing with musical accompaniment.

"We will be performing with Collegium Musicum," Classen said. "They will perform for 20 minutes at the beginning and again at the end."

This will not be the first time Collegium Musicum has performed with other departments, but it will be the first time it will be doing a poetry/music event with the humanities department.

"It is a natural fit for departments that specialize in these periods of history to collaborate," said Christina Jarvis, associate professor of music and director of Collegium Musicum. "We are delighted to have this opportunity."

The music that was selected to accompany the reading will not precisely match the poetry linguistically, but Jarvis said it will "provide a kind of background for the poetry."

Due to monetary restrictions and time constraints, the musical portion of the program will not be accompanied by translations.

"Rather than reciting the translations, we will just let the music speak for itself," Jarvis said.

She added that the singers will perform a variety of pieces, from solos to ensembles, so "each singer has enough, but not too much to do."

The organizers hope the combination of poetry and song will open the audience's eyes and ears to the Middle Ages.

"People might get a sense of what spring was like in the past," Classen said. "We hope that people will go away understanding how the whole time period was."

Classen said he also hopes the combination of poetry and song will inspire students to further their education on the topics presented.

"(We want) students to prepare themselves for an exciting and highly significant study of pre-modern poetry," he said.

Regardless of what is learned from the reading, Classen said he hopes the audience will enjoy itself.

"We really want people to come in and think, 'It's fun to express yourself in another language.'"