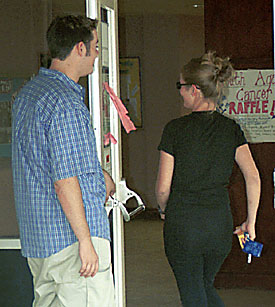 ALYSON E. GROVE/Arizona Daily Wildcat

Undeclared freshman Richard Zahler holds the door open for media arts freshman Anne Heeren outside Coronado Residence Hall, 822 E. Fifth St., yesterday. Coronado has been put on lockdown for the rest of the semester as a result of the recent string of sex crimes on campus.

By Arek Sarkissian II
Arizona Daily Wildcat
Tuesday Apr. 30, 2002

UAPD officials remind students that residence halls are their home

Students said yesterday that police must step up residence hall security after a recent rash of sex crimes, but UAPD says students must play a larger part in their own safety.

University of Arizona Police Department Cmdr. Brian Seastone said a residence hall is a student's private home. Just like private homes, police officers cannot enter the building unless they have reason to. Otherwise, they must be escorted like every other guest.

Students said, though, that UAPD should be the primary guardians of safety and not put the responsibility on the students.

"UAPD needs to get off their asses and start doing something. Station one (officer) in each dorm and garage,š said Kevin Zingale, mechanical engineering sophomore. "They don't do much driving down Speedway (Boulevard).š

Mark Kiran, a regional development freshman, said his main purpose at the university is to be a student, and the job of catching would-be rapists should be left up to UAPD.

Associated Students of the University of Arizona senator-elect Scott Cheney, a biochemistry sophomore, agreed with Kiran, saying the cost to live at and attend the university should come with some sense of safety.

"We pay so much to live here on campus. The least they could do is make the dorms safer,š Cheney said.

Seastone argued, though, that police can't be everywhere, and students need to make sure to look out for their own safety.

"People do need to take responsibility. They need to make sure strangers aren't entering the building and making sure doors aren't propped open ų just as they would if they were at home,š Seastone said.

Delfina Gayiola, a theater arts freshman, said she has taken safety reminders from UAPD and Residence Life seriously, but that not everybody who lives in her dorm has heeded the warnings.

Gayiola said that on Sunday, she questioned someone who tried to enter her dorm and denied that person entrance. She said that three minutes later, she saw the person walking the halls of the dorm by himself.

Whistles handed out by UAPD during its Whistle Stop for Safety campaign became a hot commodity in the dorms. One student said she carries it everywhere.

"I held it in my mouth as I was walking to my car. A lot of us take them into the showers as well,š said Tiffany Rothschild, a pre-pharmacy freshman.

Ashley Ho, an undecided freshman, said the attempt to get students involved has been successful. She said male residents even offered to keep watch for intruders outside the showers.

Ho was ultimately satisfied with the security precautions taken and said that she and her friends were old enough to watch out for themselves.

The string of incidents began April 17 when a Tucson man, Esteban Rodriguez, allegedly attempted to sexually assault three girls as they were showering at Arizona-Sonora Residence Hall.

On April 20, Rodriguez was arrested after he allegedly attempted to sexually assault a Manzanita-Mohave resident as she was showering.

On the evening of April 23, a La Paz resident was attacked by a different masked intruder as she showered.

That suspect, who is still at large, is described as 5 feet 9 inches tall, with a thin build and blue eyes.

Seastone said the most recent incidents at La Paz Residence Hall and Park Avenue Garage are being investigated by UAPD and several other local agencies.

Yesterday, he gave a more concise description of the suspect from Thursday's incident. He described the suspect as a white male with a dark tan and slim build, approximately 6 feet tall with short dark hair, possibly a crew cut and clea- shaven.

Seastone said the suspect was last seen wearing tan colored shorts and a shirt of an unknown type or color.

Anyone with information regarding either of the two suspects who are still at large should call 88-CRIME.