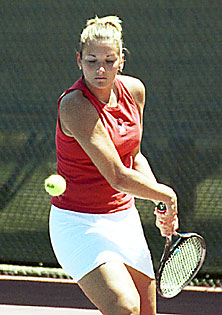 RYAN CLAY/Arizona Daily Wildcat

Arizona freshman Maja Mlakar returns a volley April 20 against Arizona State at Robson Tennis Center.

By Brian Penso
Arizona Daily Wildcat
Tuesday Apr. 30, 2002

The Arizona men's and women's tennis teams traveled to the Pacific 10 Championships this weekend with different goals and aspirations.

The 18th-ranked women Wildcats have assured themselves a spot in the NCAA postseason tournament, but the men's team needed a good showing in Ojai, Calif., to try to gain an at-large bid.

Both teams may have had different aims, but the outcome was the same for both as they endured tough losses over the weekend.

Senior Steven Capriati, who is No. 35 in the nation, was upset in the round of 16 by unranked Ryan Haviland of Stanford, 2-6, 5-7.

Junior Tom Lloyd, the captain of the UA men's team, was unable to win his first-round match as well, losing to Matt Hanlin of Washington, 2-6, 4-6.

The one positive note for the men was the play of sophomore Whi Kim.

Kim was the only singles player to advance past the round of 16, but he eventually lost in the quarterfinals 6-4, 3-6, 3-6 to UCLA's Roland Grilli.

The women endured the same upsets over the weekend as No.17 Maja Mlakar was defeated by unranked Lorena Arias of Washington State in the first round.

Arizona's No. 2 player, sophomore Debbie Larocque, suffered the same fate as Mlakar as she was also upset, 6-1, 2-6, 4-6.

Mlakar and Larocque said they were disappointed at the results of their matches against opponents they had beaten earlier in the season.

"We were disappointed as we lost some matches that we didn't expect to,š Larocque said. "Maybe we went in overconfident.š

Mlakar and Larocque didn't give up, instead managing to put their individual struggles behind them as they advanced to the quarterfinals of the doubles portion of the championship.

The Arizona duo eventually lost to the Bruins' top doubles team, 8-9.

The lone bright spot in singles play came from freshman Dianne Hollands as she made it to the quarterfinals before losing to Stanford's Gabriela Lastra, 2-6, 3-6.

"The Pac-10 Championships were important for us, but they were more of a tune-up for regionals,š Larocque said. "Some of our players had some tough matches and that is good. We are all very excited to return to the court and begin training for the postseason.š

With the Pac-10 Championships behind both teams, the next step is different for each.

The women return to practice tomorrow to prepare for the postseason, while the men have to wait until Thursday to see if they will receive a regional berth.