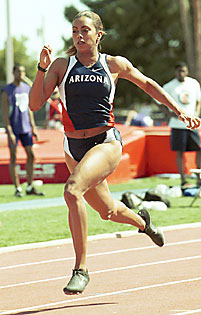 file photo/Arizona Daily Wildcat

Arizona senior All-American Brianna Glenn sprints last month during the Jim Click Shootout at Drachman Stadium. Glenn won the 200m in last weekend's Drake Relays, which were marred by poor weather.

By Brian Savitch
Arizona Daily Wildcat
Tuesday Apr. 30, 2002

When the UA track and field teams left Des Moines, Iowa, on Sunday, they were able to walk away with their heads held high.

Going into the three-day meet, coaches Dave Murray and Fred Harvey knew the weather would be an issue.

In every previous year, this meet faced bad weather, and this year was no different.

"We use this meet as our fun meet, so it is special, but we go in knowing that we can get anything with the weather,š Harvey said.

"It was 42 degrees outside, raining like crazy, and extremely windy,š Murray said.

These extreme weather conditions made it difficult to compete and difficult to perform well.

However, the Wildcats were able to fight through the conditions and salvage some respectable performances.

On the women's side, senior Brianna Glenn was Arizona's top performer. Glenn defended her 200m title with a time of 23.96.

"We knew Brianna had a good chance in the 200m, and we're glad the weather didn't hold her back too much,š Harvey said. "She was running into a strong headwind.š

Another top-three performance was turned in by senior Alexandra Komnos, who finished second in the 100m hurdles with her time of 14.06.

The women's distance medley relay team ų comprised of senior Cara Cline, freshman Chelsea Powell, junior Danielle Price and sophomore Beth Hoge ų finished third overall with their time of 11:32.54.

"Our distance medley team ran extremely well, and they were one of the highlights of the meet,š Murray said.

On the men's side, senior Mike Kenyon was the bright spot in the meet. Kenyon ran the 200m into a strong head wind and still was able to take home the championship with a time of 21.02.

"Mike Kenyon got an invite entry into the 200m, and he was a surprise to some people, but his coach knew he would run well,š Harvey said.

"Kenyon ran a great meet considering the weather conditions,š Murray said.

Mike Mortensen took home the pole-vault crown and became the first Wildcat champion of the meet.

"Mike Mortensen vaulted well and was the highlight of the meet for us. Mike vaulted for us two years ago and then left on his Mormon mission,š Murray said.

"He hasn't vaulted in two years, and he's finally getting back into good form,š Murray said.

This meet offered the Wildcats a chance to compete in front of a massive crowd, which is much different from what they are used to.

"We don't get a chance to run like this a lot. The seats were sold out, but the weather kept some people at home,š Murray said. "There were still about 13,000 people there every day, and the crowd was a very energetic crowd.š

Murray said because of the weather, numerous athletes were not able to perform to their maximum abilities.

"People didn't perform at a normal level. Our throwers threw in basically a lake because it was pouring rain,š Murray said. "The weather made it dangerous for our pole vaulters, and their heights suffered because of this. But then again, there weren't any good performances from any team.š

The Wildcats return home this week to finish out the regular season with their final home meet, against Northern Arizona and Arizona State on Saturday at Drachman Stadium.