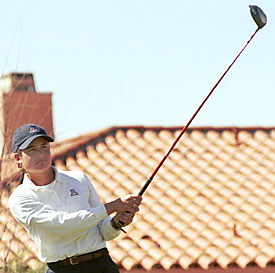 file photo/ARIZONA DAILY WILDCAT

Sophomore Lorena Ochoa admires a shot last month at the Wildcat Invitational. Ochoa will conduct an online chat at 3:30 p.m. MST today on ESPNDeportes.com.

By From staff and wire reports
Arizona Daily Wildcat
Tuesday Apr. 30, 2002

Arizona golfer Lorena Ochoa will talk to some of her biggest fans in their native tongue, Spanish, today in an ESPNDeportes.com online chat.

The sophomore from Guadalajara, Mexico, will field questions submitted by users at 3:30 p.m. MST on the Web site, which provides Spanish-language coverage of sporting events.

The chat comes just months after Ochoa was honored with the National Sports Award ÷ given to the best Mexican athletes each year ÷ from the Mexican government. President Vicente Fox presented the award to the 20-year-old in November, while Ochoa was in the midst of what would become an NCAA-record win streak of seven consecutive tournaments.

Led by Ochoa, the UA womenās golf team will try to follow up last weekās victory at the Pacific 10 Conference championship with a strong showing at the NCAA West Regional May 9.