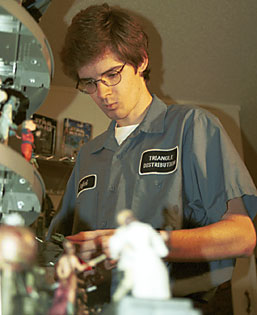 ALYSON E. GROVE/ Arizona Daily Wildcat

Media arts senior Adam Pawlus plays with his Star Wars figurines yesterday afternoon in his Palm Shadows apartment. Pawlus runs his own Web site and is an authority on these figurines.

By Kate VonderPorten
Arizona Daily Wildcat
Tuesday Apr. 30, 2002

Media arts senior leading authority on Star Wars figurines

ăIf you imagine a 40öyear-old guy in a laboratory coat trying to knock over a fork with a toy gun mechanism, thatâs me. Some people grow older. I just got taller.ä

Media arts senior Adam Pawlus never stopped playing with toys, and he probably never will.

His collection of Star Wars figurines may be the most extensive in the world, and he stores an equally vast amount of toy-culture knowledge.

ăI got my first Star Wars toy when I was 2, and by the time I was 10, I had a complete set of Star Wars action figures,ä Pawlus said. ăSome people claim to have a complete set but they really didnât because not all of the figures were released in North America.ä

Pawlusâ 1,000-plus figurine collection is too vast to be stored in his Tucson apartment alone. His parentsâ home in Phoenix boards the rest.

ăAt the university, I only have a very small percentage, and at my parentsâ home in Phoenix is where the largest percentage of my collection is stored,ä Pawlus said. ăI use fishing tackle boxes, shelves, fishing wire on the ceiling to store my figures ÷ it is very haphazard.ä

To Pawlus, the excitement of collecting is more important than the monetary value of the figurines he possesses.

ăActually, I am not really concerned with the value so much as the sport,ä Pawlus said. ăI have some that are worth hundreds and others that are worth two bucks. But to me, if I like it I like it. The value isnât important.ä

John Hotchkiss is a staff member at Yakface.com, one of the Web sites Pawlus runs. He shares Pawlusâ practice of using his collection for pleasure and not for its resale value.

ăAdam subscribes to the idea of Îfreeing the figures from their plastic prisons,â which is something that I think irks a lot of the collecting community,ä he stated in an e-mail interview. ăHe uncards everything in his collection. This, to me, is the sign of a true collector, collecting to collect ÷ not someone who is looking for reinvestment.ä

Beyond collecting, Pawlus has contributed information to leading magazines and newspapers regarding toy culture. He has also freelanced for several publications.

ăI have written columns for various pop-culture and action-figure magazines, and I was quoted by US magazine, The Washington Post and The Wall Street Journal,ä Pawlus said.

In his articles, Pawlus is often positive, though he is known to occasionally critique poorly constructed toys.

ăBasically, I am a fan and as such I am usually very upbeat. But a lot of companies like to make cheap shortcut toys ÷ they donât really make a lot of toys to withstand heavy play. If something is bad I will call them on it.ä

Yakface.com (Yakface being a Star Wars figurine not released in the United States) is geared toward Star Wars memorabilia and helps to feed Pawlusâ toy habit.

ăOne of my sponsors pays me in toys, and so I get cases of action figures,ä he said.

The other Web site Pawlus operates, 16bit.com, is a more general toy and miscellaneous site, which he said consists of ăwhatever the heck I feel like.ä

Pawlus hopes he will be able to eventually find a job doing what he loves, but currently, the job market in the toy industry is small.

ăI will be graduating in about two weeks, and there is a hiring freeze in my industry. So I will be going back home and looking for a monkey job ÷ hopefully not retail,ä Pawlus said.

Kids are part of Pawlusâ future plans, though the toys could present an obstacle.

ăI have a feeling my kids will become minimalists and only want the clothes they have on their back and not like toys,ä he said. ăBut if they look at all my toys and say, ÎWhy canât I have that many?â it could be a problem.ä

And the new figurines?

ăThe new Star Wars figures are really neat ÷ I got most of mine about a month ago. They are more of a toy aimed at a younger audience than the embittered 20-somethings of which demographic I am a part of,ä he said with a smile.