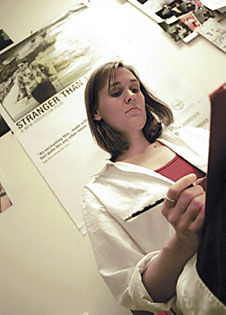 DEREKH FROUDE/Arizona Daily Wildcat

Media arts graduate student Rachel Ellis Adams proofreads a draft of the screenplay for her film ăSeeing and Believingä in the Harvill building yesterday morning. Adams will graduate this spring and begin filming ăSeeing and Believingä this summer.

By Graig Uhlin
Arizona Daily Wildcat
Tuesday Apr. 30, 2002

While many May graduates will spend the summer watching movie blockbusters at the local megaplex, media arts graduate student Rachel Ellis Adams will spend hers making one.

But Adamsâ upcoming feature-length film project ÷ titled ăSeeing and Believingä ÷ is no Hollywood blockbuster. Working with a projected budget of $3,000 plus whatever her Visa card can tolerate, Adams, adhering happily to the ăindie aestheticä of such filmmakers as John Sayles and Hal Hartley, has no illusions about her film getting a lucrative distribution deal from Universal and a nationwide release ÷ and she prefers it that way.

ăThis movie is never going to play in the Loews Cineplex. Itâs not that kind of movie. Itâs not going to have a big audience,ä Adams said. ăItâs a talkie ÷ philosophical, quirky, if you will. If it opened commercially at all, that will blow my mind.ä

Adams does not the this film as a way to break into Hollywood.

Her long-term goal is to found a non-profit film studio, a form of independent filmmaking and community outreach that refuses the typical model of making movies.

ăI donât think that I would enjoy the Hollywood lifestyle. I think that it interferes with your ability to tell a good story,ä Adams said. ăI do feel that money ruins you. It ruins the artist, not in and of itself but all the baggage that comes with it. I think that itâs wrong to be rich while there are so many people that are poor. Itâs just wrong. Itâs rude.ä

ăSeeing and Believing,ä which Adams wrote over a 10-year period, is inspired by experiences she had while living in Philadelphia after graduating from college.

ăI was exposed to some ÷ I donât want to make myself sound like a lunatic ÷ but I was exposed to some psychic phenomenon that kind of converted me to consider the possibility of things that I had not previously considered,ä Adams said.

The story asks the audience members what they would do if suddenly they realized they had ESP. Would their friends believe them? Would they use their gift toward selfish ends? Would they feel a sense of responsibility to help people?

ăI really see it as an exploration of how much energy it takes to be ourselves, particularly if our authentic self is not something that society encourages,ä Adams said.

The film will be shot on location ÷ ăin friendsâ apartments and on the streetä ÷ in Boston where Adams grew up. The cast is small, with five principal actors and some walk-ons, and Adams plans to wrap up production by the end of July.

As with all independent filmmaking, Adams will be doing her best to make her dollar stretch as far as it can.

ăMy attitude is that I will do whatever I can with what I have,ä Adams said. ăI expect most of the money to go toward food.ä

Food?

ăOne of the most important things you can do on an independent set when youâre not paying people is make sure they feel loved,ä Adams explained. ăYou really need to create an environment where theyâre not distracted by things like (having to pay for lunch).ä

Moreover, Adams acquired an experimental film agreement from the Screen Actors Guild, which allows a film with a budget of less than $75,000 and limited release to defer payment to its actors.

As of now, Adams only has the money to complete the pre-production and production phases of her film project.

ăI donât have any money for editing,ä she said.

Adams said she will put together a trailer so that she can apply for completion grants to finish the post-production work.

But right now, Adams prepares to deal with any problems that come her way ÷ ăIâm sure Iâll run out of money,ä she said ÷ and offers a modest best-case scenario for her film.

ăI finish it; I screen it at the Toronto Film Festival; one of the smaller independent, art-house distributors comes up to me and ends up giving me a deal,ä she said.