Unmarked gas line broken, second in a month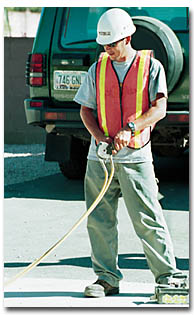 MICHAEL MEISINGER
Radiographer Philip Parker checks the weld on repairs made to a leaking gas line at 1227 E. Drachman St. Friday afternoon. Workers with Northern Pipeline Construction hit and broke a half-inch plastic pipe with a backhoe while working on a pipeline that will service the UMC and UA areas.
By Cyndy Cole
---
ARIZONA DAILY WILDCAT
Tuesday September 11, 2001
Additional gas lines being built to support university-area growth
Construction workers installing a new natural gas pipeline that will service UMC and the UA area broke an older gas line in the same area Friday.
The old gas line was located at Santa Rita Avenue and Drachman Street.
There were no injuries or evacuations, and natural gas was not shut off at any point, said Libby Howell, administrator of Corporate Communications for Southwest Gas Corporation, which hired the pipeline construction company.
Workers with Northern Pipeline Construction, hit and broke the half-inch plastic pipe with a backhoe at 1227 E. Drachman St. at 8:42 a.m. Howell said.
The line was repaired by 9:12 a.m., Howell said.
The broken line comes as Northern Pipeline's second reported construction pipeline mishap in a month due to incorrectly marked lines.
"We spend a lot of time and money trying to train people to locate a (gas) line, and no matter how much training they get and how good they are, it's still going to happen," Howell said, adding that these things happen daily.
Northern Pipeline Construction is responsible for locating underground lines, Howell said, adding that she was unsure whether workers knew where the line was located and just made a mistake by breaking it, or if the line was incorrectly located.
Northern Pipeline workers were not able to locate the line, a Northern Pipeline construction worker said. Workers pinched and bent the line to stop natural gas from flowing out until Southwest Gas repair workers arrived, he added.
Gas lines are located with a device similar to a metal detector, Howell explained. Smaller plastic pipes are wrapped in wires, so that workers can use the metal detecting device to locate these pipes.
But sometimes the wires unwind from around the gas pipeline, and become separated. In theses cases, metal detecting device indicates that the pipeline is located where the wire is laying, when really the pipeline lies elsewhere, Howell said.
A similar pipeline mishap occurred on Aug. 16 when Northern Pipeline Construction previously struck a pipeline at Tyndall Avenue and Helen Street, which closed surrounding streets for 20 minutes. One woman was transported to University Medical Center for breathing problems related to the fumes as a result of that incident.
Though natural gas is flammable, it is not toxic, Howell said. Gas companies add a scent to odorless natural gas so that leaks and line breaks can be detected, before the gas is accidentally ignited.
Friday's gas line was broken during a project to install a 6-inch main gas line that will feed the university area. The gas line runs from the University of Arizona energy building up Fourth Street and Tyndall Avenue to Drachman Street, said Richard Shea, Northern Pipeline Construction foreman.
The new line is being installed in anticipation of a higher demand for natural gas due to growth in the university area, Howell said.
Part of this demand will be a gas-powered electricity generator that the UA is planning to build near UMC, Howell said in an August interview. The gas line should be finished in October, Howell said.