Wildcats continue winning ways in tournament sweep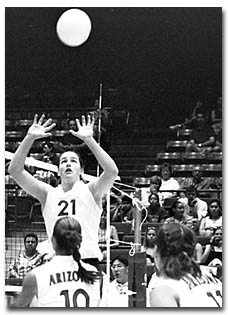 Matt Capowski
UA senior setter Dana Burkholder (21) set the ball for junior middle blocker Stefani Saragosa (10) during the Wildcats' match against Louisville Saturday in McKale Center.
By Brian Penso
---
ARIZONA DAILY WILDCAT
Tuesday September 11, 2001
Arizona's defense too much for Cardinals
With former UA standout Marissa DaLee in the crowd, the UA women's volleyball team continued its early-season dominance with a sweep of Louisville this weekend to take home the Four Points University Plaza Wildcat Classic Championship.
The Wildcats made an instant fan of DaLee, who finished her UA career last season as one of the best middle blockers in school history.
"They look good, and they are so smooth all the way around," DaLee said. "The team is so amazing, and the team's ball control and defense is great."
The No. 5 Wildcats (5-0) defeated Louisville (4-1), 30-28, 30-19, 30-28 to capture its 13th tournament title in 17 tries.
"We had a good tournament," said senior outside hitter Jill Talbot. "Louisville was a much better match for us because they kept giving us the ball, which forced us to put it away and not make unforced errors. It was also good for us to block against the smart, tactical hitters Louisville had. The more we play this year, the better we are going to get."
Arizona's play at the net led the way for the Wildcats - UA out-blocked the Cardinals, 12-4.
UA junior and senior middle blockers Stefani Saragosa and Erin Sebbas combined for 11 blocks.
Besides strong play at the net, Arizona's back row defenders, led by freshman defensive specialist Kelli Mulvany, were too much for Louisville attackers to handle. Mulvany had a match-high three service aces.
"Our defense was a lot better this weekend," said senior setter Dana Burkholder. "Rachel (Williams) and Kelli dug deep and they did an excellent job for us this weekend."
Offensively, junior outside hitter Lisa Rutledge continued her stellar play with a match-high 14 kills. She also added six digs.
Talbot added nine kills, seven digs and four total blocks.
"Offensively, the play of Jill opens up our entire offense," said UA head coach David Rubio. "If you have someone like her, the other team can't cheat to one side because they have to respect her. Her presence created a lot of indecision for the defense and that gives us such a big advantage offensively."
Rutledge and Talbot's play earned them both all-tournament selections.
Junior outside hitter Shannon Torregrosa, who had 12 kills Saturday, was also selected to the all-tournament team.
While Torregrosa's hitting percentage was just .071, Rubio said he is confident her numbers will increase as the season progresses.
"Shannon will continue to get better in her attack percentage because she will begin to make less errors," Rubio said. "She is making errors because she is not used to being out there, and that is part of the learning process. Once she gets there, though, it could be really scary for the opposition."
Burkholder continued to display why she was selected the Pacific 10 Conference Player of the Year last season.
The senior recorded a match-high 41 assists, adding six kills, seven digs and five blocks, earning her the most valuable player award for the tournament.
Burkholder was quick to point out that the support she gets from each player on the team allows her to succeed.
"It is nice to get the award, but I would not get it without my teammates because they make me great," Burkholder said. "I know I do a lot of nice things, but I have Lisa, Shannon, Jill, Stefani, Erin and two defensive specialists that dig and crush every ball. Everyone on the team contributed to this award."
The Wildcats, who concluded their non-conference schedule with the win against the Cardinals, open up their Pac-10 schedule Friday against No. 9 Stanford.