Cats break records in weekend sweep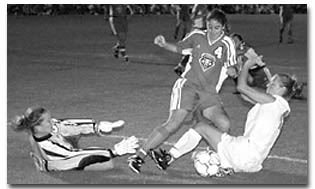 JON HELGASUN
UA sophomore forward Liz Bartlett attempts a slide tackle against a New Mexico defender Friday during the Wildcats' 3-0 win over the Lobos. Arizona broke it's 11-game losing streak dating back to last season by beating New Mexico.
By Lindsey Manroel
---
ARIZONA DAILY WILDCAT
Tuesday September 11, 2001
Women's soccer sets two records, end winless streak
The UA women's soccer team put a definitive end to its 11-game losing streak with a pair of victories in front of its home crowd this weekend at Murphey Field.
The Wildcats blew by Southern Utah 9-1 yesterday en route to a school record for the most goals scored in one game and shut out New Mexico Friday night, 3-0. The previous record was six goals in a game, tallied against Gonzaga in 1996.
UA head coach Cathy Klein said UA put up a good effort for the second week in a row. Last weekend, the Wildcats dropped a 4-2 decision to No. 5 Nebraska.
"I'm very proud of our girls," Klein said. "The two wins (over the) weekend are not our main focus. (The Wildcats needed to) move this program forward - that's exactly what we did."
Freshman forward Candice Wilks started the momentum for the Wildcats yesterday against Southern Utah, scoring the first of a seven-goal run for Arizona after just 15 minutes of play.
Wilks would contribute two more goals while freshman Cassie Daniels added another in the second half.
However, the performance from senior forward Kristi Lorona excited Klein. With five goals on the afternoon, Lorona broke the old school record of three, which she shared with three others until Sunday.
In front of an excited crowd at UA's Murphey Stadium, Lorona was pleased to end what she said was a personal scoring slump.
"It's kind of a relief," Lorona said. "I haven't really been scoring, so it feels great. (The crowd) definitely pumped me up. It's nice to see your friends, family and students on the sidelines."
Arizona's performance yesterday carried over from Friday's win against the Lobos.
Daniels ended a 30-minute slump with the first goal of the night, and the first in her collegiate career.
Freshman midfielder/forward Vanesha Bailey added a goal of her own with 3:08 left in the first half, and junior Tymarie Novak capped the Wildcats' victory with a goal in the second half.
Senior goalkeeper Shannon Monti led the Wildcats in front of the net, allowing just one goal in 180 minutes of play.
Although Monti said she was pleased with her performance, the senior was disappointed she let in the only opposing goal of the weekend.
"I wish there were no goals, but you just learn from it," Monti said. "I'm definitely learning a lot, but I still feel I can be better."
With two school records set and an 11-game losing streak snapped, UA players said they are looking ahead to the rest of its season.
"It feels incredible, "said sophomore forward Liz Bartlett. "We had a plan in mind. We said we'd take two step forward and I definitely believe we did."
The Wildcats attempt to build on their two-game win streak this weekend with a pair of matches starting Friday at Murphey Field. UA plays West Virginia Friday and Pittsburgh on Sunday.