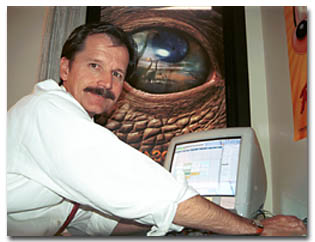 KRISTIN ELVES
Craig Caldwell catches up on work Saturday afternoon in his office. Caldwell's workload has increased since he was recently named interim head of the media arts department.
By Aaron Cowman
---
ARIZONA DAILY WILDCAT
Tuesday September 11, 2001
Caldwell changes face of the media arts department
For the next two years, Craig Caldwell will have a different title.
Once a professor, Caldwell is now temporarily in charge of the Media Arts department as interim head.
Caldwell, a computer animation expert, took a two-year leave from professorship at University of Arizona to work for Disney in 1997. He helped animate such films as "Dinosaur," "Mulan," "Atlantis: The Lost Empire" and "Tarzan."
He returned to UA to teach computer animation classes, and still finds time to teach this semester.
"I'm still teaching computer animation this fall," Caldwell said. "As a faculty member, I focus on the classes."
"The staff is extremely pleased with his appointment," said Norma Ayón, academic adviser in the media arts department. "We're all looking forward to the next two years."
Caldwell, who began his UA career in 1994, said the new position is a definite change from the professorial work he was used to.
"I went from wearing jeans everyday to wearing nice pants everyday," Caldwell said. "I've adapted to a new lifestyle."
The position has meant more work for Caldwell, work that Ayón said he has dealt with well
"His duties have increased tenfold, and he's done a good job of adjusting," Ayón said.
The extra responsibilities have led to more hours spent at the university.
"I keep working until my brain stops functioning," Caldwell said. "And then I go home."
He said he would like to eventually return to the movie industry, but he lacks the time at this point
"This semester I have had to put my own work aside," Caldwell said.
Ayón said that Caldwell's superb people skills made him a good candidate for the position.
"He's a very personable individual," Ayón said. "He's very approachable. The key thing is that he works for you."
Caldwell said he tries his best to accommodate everyone's needs.
"I have to ask myself, 'How can I help people?'" he said. "And especially, 'How can I help students?'"
Caldwell said he feels well received by his co-workers.
"So far I've had a very positive response," Caldwell said. "Maybe it's the doughnuts I bring every Wednesday."
Pastries aside, Ayón said it is his overall work ethic that makes him so easy to work with.
"I have the utmost respect for Craig Caldwell," Ayón said. "We've gotten off to a great start this semester."
Caldwell replaced Nohema Fernandez as department head, but when his two-year term ends, a search will begin for his replacement. Caldwell said he would be happy to return as a professor when that time comes.
"I'll keep working and we'll see," Caldwell said. "I take it year by year."
Ayón said that until that time comes, the department is in good hands.
"There is a lot of good stuff in store for the media arts department," Ayón said. "I think Craig will take us into the future."