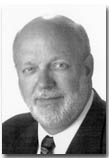 Courtesy photo
Charles Roe performs tonight with Rex Woods. The UA professors will sing songs about animals and the poetry of William Blake, among other subjects.
By Anne Gardner
---
ARIZONA DAILY WILDCAT
Tuesday September 11, 2001
UA professors to perform unusual selections
The opportunity to hear songs and poetry through music in a variety of different languages does not happen everyday.
University of Arizona voice professor Charles Roe is performing a concert to do just that. Roe joins Rex Woods, a UA piano professor, to put on a show featuring art songs about animals, dramatic stories and the poetry of William Blake as a part of the Faculty Recital Series.
Roe has bachelor's and master's degrees in vocal performance and further studied the subject before he began his singing career. He sang with the New York Opera Company and numerous regional opera companies in many states, including Michigan, Texas, Utah, Kentucky and California. He has also performed abroad in Mexico and Korea.
Roe is the artistic director of the UA Opera Theater, a position he has held for the past 12 years. He has also been involved in the Arizona Opera Company for six years. This spring he was honored to be a featured soloist with the Tucson Symphony Orchestra.
Woods is the associate director of the School of Music and Dance. He has a master's degree in music from UA and has further education in collaborative work on the piano. After teaching in Texas for five years, he joined the UA faculty in 1988.
Woods has performed with many famous musicians at home and abroad, and has recorded albums with some of them. He is also a member of UA's "The Bruch Trio," which records on the Summit label.
The concert by Roe and Woods will feature four songs - "Vier Lieder" by Carl Loewe, "Sechs Monologe Aus Iedermann" by Frank Martin, "Histoires Naturelles" by Maurice Ravel and "Songs and Proverbs of William Blake" by Benjamin Britten. The concert is roughly 1 1/2 hours long with an intermission between the Martin and Ravel pieces.
Each song is story-like in quality, allowing Roe to perform multiple characters.
"He (Roe) is a warm, expressive artist with fine dramatic sense - he's a natural performer," Woods said. "His sincere and direct approach to his audience and sound makes his other characters believable."
Each tune requires Roe to adopt different personalities that pertain to the subject matter.
"'Vier Lieder' is very intense and dramatic," Roe said. "For example, the Fontane section of it is about a boy who kills his father, essentially for his mother, and then he and the mother get into an argument about it."
The Martin piece, dubbed "Everyman" for a short translation, also deals with heavy subject matter. It is a story about a man who is dying and has to come to grips with mortality and salvation.
"'Everyman' goes to fundamental human emotions and feelings," Woods said.
On a lighter note, Ravel's song does not deal with death or personal issues. It deals with animals, including a peacock, a cricket, a swan, a kingfisher and a guinea hen.
"These are natural stories," Roe said. "It describes the animals well."
"The Songs and Proverbs of William Blake" features seven different songs, each relating to a proverb that can be found in Blake's poetry.
"It's an art song, rather than poetry," Woods said, in regard to the Blake work. "(The music) leads from so many views into the depth of the poetry."
The Loewe, Martin and Ravel pieces are all performed in other languages, but the final piece will be performed in English.
To assist with comprehending the songs in different languages, there will be a screen at the top of the stage with superimposed titles for all of the songs, allowing for immediate translations.
"We used to print out the translations of the songs in the program," Roe said. "You could hear the shuffling of papers as people would try to read, mostly while it was dark during the performance. This eliminates all that."
This innovation was tried for the first time last year at a recital and received great success. The same outcome is expected for this recital.
"This is a chance to hear high-quality music done professionally," Roe said.