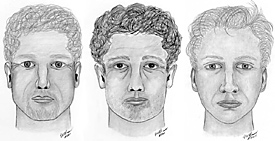 Tucson police are seeking information regarding the man depicted above. He is wanted in connection with eight sexual

By Jenny Rose
Arizona Summer Wildcat
Wednesday July 10, 2002

Police link May 30 assault to UA area sex crimes earlier last semester

A serial rapist believed to have been responsible for several UA-area rapes has been linked to a fifth assault, Tucson Police Department Sgt. Marco Borboa said Tuesday.

Police believe the man is most recently responsible for a May 30 assault, when a 27-year-old woman said a man entered her home near East 22nd Street and South Fifth Avenue and sexually assaulted her.

By combining DNA and shoe print evidence, Tucson police discovered that the same man is responsible for four other sexual assaults near the UA campus and four assaults in San Diego that took place between July 2001 and this May.

The first sexual assault occurred when a 20-year-old woman was physically and sexually assaulted near UA on East Adams Street. Earlier that day a man had entered the home of a woman living across the street to demand money, the woman said.

A 22-year-old woman was sexually assaulted in her home on East Blacklidge Drive on Oct. 31.

The fourth incident occurred on Jan. 11, at about 12:35 a.m., when a man entered a home near North First Avenue and Roger Road, and physically assaulted a juvenile female. DNA evidence linked the crime to the previous assaults.

Police used shoe prints to link the perpetrator to three assaults in October 2001. DNA evidence was used to link the same person to an assault in January, and assault in May, and four assaults in San Diego that were committed from July through September 2001.

Borboa said the man is being considered by TPD as a serial rapist.

The Tucson assaults were committed against women younger than 28, including one juvenile. The victims helped TPD make a sketch of the assailant.

Police say the shoe prints left at the scene of the assaults were from Route 66 Oxfords, which are gray and navy in color and were sold at K-Mart in 2001.

Borboa said TPD is still getting calls with information on the string of assaults.

Borboa said people should be careful in the upcoming months, especially when moving into a new home.

He said when moving into a new house or apartment, people should be aware of who is in the area and make sure to lock all doors between trips. He also said that roommates should never leave the door open for each other.

Anyone with information about the assaults is urged to call the 24-hour hotline established by TPD at 791-4939.