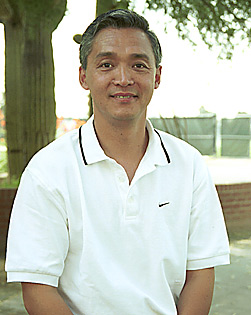 JILL MARICICH/Arizona Summer Wildcat

Newly hired UA cross country coach James Li sits outside of McKale Center, two weeks ago. Li, 40, was previously the head coach at Washington State.

By Ross Hammonds
Arizona Summer Wildcat
Wednesday July 10, 2002

James Li has learned one thing for sure ų Tucson is a long way from Washington.

Li, hired last month as the new cross country head coach at UA, drove to Tucson for the first time three weeks ago, from Pullman, Wash., where he worked with the Washington State Cougars for more than a decade.

"That is a long drive,š Li said.

While the drive might have been new, the competition Li will go up against in Pacific 10 Conference play this season will be familiar ų except that Li will be coaching the opposing team when UA faces WSU, the school Li had been with since 1985.

The 40-year-old coach will replace Dave Murray, who retired this year after coaching the Wildcats since Li was just four years old.

"I hope to continue the success and tradition Murray brought (to Arizona),š Li said. "I will work very hard to do the very best here, the best I know how.š

Fred Harvey, UA's director of track and field and cross country, has nothing but praise for the incoming coach, whom he met five years ago and immediately hit it off with.

"I'm very excited to have someone of the same philosophy come here,š Harvey said. "He is very easy to get along with and he understands people very well.š

At WSU, Li coached nine All-Americans, including Bernard Lagat, who won the bronze medal in the 1500m at the 2000 Sydney Olympics.

Li grew up in the People's Republic of China and became a U.S. citizen in 1998.

He still has close ties to his former country, where he was a coach at the Sichun Sports Technique Institute from 1983 to 1985.

He brings international experience to his runners, along with personal experience, as he ran and won the 800m in 1979 during his college career at the Beijing Institute of Physical Education.

Although Li said he feels the system is different there, when it comes down to it, the essence of running is the same.

"How to train a runner so they respond in the most positive way,š he said.

Li's knowledge of the 800m is one of his greatest assets, Harvey said, who is giving up the mentorship for that distance to Li.

"So many coaches don't understand that run. He does,š Harvey said. "I would only give up that run to one person, and that's James Li.š

Arizona's 800m runners include David Krummenacker, who won the 800m at the U.S. Championship on June 24. He trains with former Wildcat Patrick Nduwimana, who made the world-championship semi-finals in the same event.

Switching from WSU to UA means that the coach will eventually have to face his former team and the players he brought to the program. Li said he will be able to put personal connections behind him, though, at least when the runners are on the track competing.

"There is definitely good blood (at WSU),š Li said. "I am very strongly connected with those athletes.š

Li still holds a special position at WSU, as he will be part of the selection process for the new Cougar coach.

"Some of those athletes wouldn't be there if it wasn't for me,š Li said. "I would like to see them do well.š

"Coach Li understands it's about the athletes first, not about him,š Harvey said. "He understands the physiology behind distance running, and that's very important.š

The change in climate from Washington to Arizona may seem drastic but Li said he is not concerned with it.

"A few months a year, (Pullman) is hot,š he said. "Pullman is very east in the state, so the climate is similar.š

The change in temperature is not going to affect his training regimen, Li said "The only difference will be the time of day we train,š he said. "There's no need to drastically change the actual training.š

The main focus of Li's first year will be on continuing the tradition that was laid down by Murray.

"That is very important,š Li said. "Keeping the most competitive team and high level athletes here are very important.š

The cross country season begins Sept. 14 in Provo, Utah at the Brigham Young Invitational.