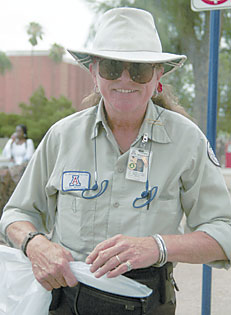 MATT CAPOWSKI/Arizona Summer Wildcat

Bobbi Saeler, a UA groundskeeper at the UA, makes $23,923 a year. State employees received a $1,450 raise in March.

By Daniel Scarpinato
Arizona Summer Wildcat
Wednesday July 17, 2002

Standing at the far end of the Integrated Learning Center's information commons, Howard Rodriguez, an assistant librarian, surveys the hundreds of students using high-tech equipment, answers questions and assists people looking for reference material.

And while a recent survey of former UA employees found that about 50 percent of faculty, appointed personnel and classified staff were dissatisfied with their paycheck, Rodriguez said he's happy with his.

He said his counterparts at other universities are making less, and he only started working at UA a year ago.

In addition, he gets state employee benefits not always found in the private sector, has had the opportunity to travel to Las Vegas and Atlanta for conferences and he, his wife and his two toddlers can potentially attend classes with tuition waived.

So at $41,750 a year, Rodriguez said it's "excitingš working for the university, and when his residency program runs out in a year, he hopes to get hired on permanently by UA.

But that attitude is not consistent across campus.

After a year-long pay raise soap opera starring the Arizona State Legislature and UA administrators, UA workers from history professors to landscapers received salary increases.
---

Salary Snapshots

Ahmed Louri

professor, electrical and computer engineering
$95,450

Doug Hartz

student body president
$6,500*

George Davis

provost
$196,450

Greg Fahey

UA lobbyist
$121,960

Helen Nader

professor, history
$100,970

Jack Copeland

professor, cardiothoracic surgery
$536,446*

James Todd

senior lecturer, political science
$49,057

John Mackovic

head coach, football
$801,450*

Leon Snyder

groundskeeper
$20,876

Lute Olson

head coach, men's basketball
$627,195*

Mark Woodhams

director, Arizona Student Media
$63,950*

Patti Ota

vice president, university initiatives
$139,750

Peter Likins

president
$225,700

Randy Richardson

vice president, undergraduate education
$155,450

Richard Powell

vice president, research and graduate studies
$163,771

Saundra Taylor

vice president, campus life
$156,000

Spencer Hunter

library specialist
$26,457

Thomas Kovach

department head, german studies
$95,086

Tony Daykin

chief, UAPD
$81,210

*Salary includes funding from sources besides state general fund allocation to UA.

---
State legislative leaders reached a compromise in March, giving all state employees a $1,450 raise.

While salaries for faculty and staff are below the national averages, wages for employees throughout Arizona typically don't keep up with those of other states.

According to numbers from the 2000 census, Arizona ranks 38th for annual per capita personal income ų and at $25,578 a year, the state is more than $4,000 below the U.S. average.

So, for UA employees ų be it Rodriguez, the president or the janitor ų making a value judgment on their salaries encompasses more than simply looking at the number on their paycheck.

The meter running low: faculty

In November, then Arizona Board of Regents President Kay McKay told faculty she was seriously concerned about low faculty salaries, but said she did not know how to solve the problem.

She said that it is difficult, if not impossible, to re-allocate money that the state designates for certain projects, such as construction, to pay for faculty.

McKay's response to the issue was not far off from what most administrators and faculty have said: There's a problem, but no money to address it.

Faculty members had hoped for a percentage increase in their salary like the legislature had originally proposed to alleviate "brain drainš ų the loss of faculty to higher-paying institutions.

"Faculty look like they are doing really well,š said Karen Anderson, a history professor who has been with UA for two decades, but in reality the pay is "insufficient appreciation for the education and effort that faculty put into their careers.š

For UA faculty, the average salary for a full-time professor is about $10,000 less than at peer institutions and $9,000 less than at public institutions, according to the Association of American Universities Data Exchange.

Anderson's colleague, Regents Professor Oscar Martinez, said low salaries have been demoralizing to the institution as a whole, from the professor on down.

"The university has lost horrible ground,š he said.

Anderson, a tenured professor, makes $76,834 a year. The pay looks good because Arizona, she said, is a low wage state.

Of course, the discrepancy in faculty pay extends beyond the history department.

Earlier this year, Peter Medine, an English professor and former faculty senator, said he was surprised when normally silent faculty senators spoke up at an October meeting when the subject matter turned to "brain drain,š citing the dialogue at that meeting as evidence that faculty are passionate about the issue.

"My worth is not measured in my paycheck,š Anderson said.

And although Anderson said faculty should be paid more, she said the employees that should feel the most neglected are low wage employees.

"They should get substantial raises,š she said.

Waiting for the elevator: staff

Joanne Collins, a cashier for Parking and Transportation Services, has worked at UA for 13 years ų the first 10 driving a CatTran bus.

"I really like my job,š she said, sitting on a wall under the Main Gate Garage, taking a break. "This is a good job and they are really good people to work for.š

The average salary for a cashier at PTS is just over $20,000 a year, although Collins said she probably makes more than employees starting out.

"That's because I've worked here longer,š she said. "I'm not sure all the cashiers would agrees with (their salaries). In fact, most don't agree.š

Valentin PeĖa, a mason for ground services, said he would like to see more employees and staff recognized for good work.

"Once in a while, a kudos for a job-well-done would be nice,š he said.

Adding that UA "is a nice place to work,š PeĖa said about his salary, "For me, it's ok. I'm satisfied with the 4.5 percent raise, but who I pity the most is custodial (workers).š

Lisa Wakefield, president of the Staff Advisory Council and executive assistant in the office of communications, said she thinks that employees feel they are not getting compensated for the work they're doing.

"(The salaries) should be higher, but at this point they're happy to have a job with the budget cuts,š she said.

Likins said in April that he would work at getting another cost-of-living pay raise for July 2003.

"We're going to take better care of the people who are least well-compensated in our workforce,š he said.

Feeling the altitude: administrators

Fifteen years ago he never would have predicted he'd be in administration.

Twenty years ago he never pictured he'd be an academic.

But now Mark Zupan is dean of the Eller College of Business and Public Administration, which is ranked 23rd in the nation by U.S. News and World Report.

"I'm a happier human being if I know our folks are well-rewarded for their effort, so the satisfaction comes in after that,š he said, adding that money was not the "driving factorš in pursing business education.

Zupan's salary of $184,137 is above the average for business deans at doctoral institutions, which sits at $175,208.

But Zupan said when his salary is stacked against the top-50 business schools in the nation, he is not over-compensated.

Still, administrators are paid well at UA, with salaries that surpass the average salaries from all institutions and are nearly equal that of other doctoral universities.

Deans of some colleges at UA ų agriculture, fine arts, science and social sciences ų make at least $5,000 to $10,000 more than the average for doctoral universities like UA, while others ų architecture, humanities, libraries, public health and engineering ų make comparable or slightly higher salaries than those same universities.

The dean of education at UA makes only $112,858, compared with the doctorial average of $130,858, and the dean of medicine makes more than $100,000 less than the average.

With UA funding shrinking in the face of a state budget shortfall, salary increases will take money ų money that may not exist.

"We have more friends in the Legislature than we've had for years,š Likins said at a May faculty senate meeting. "There's just no money.š

Cyndy Cole and Kristina Dunham contributed to this report.