Rally unites religions on campus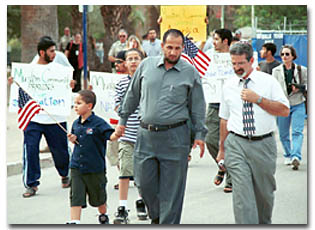 BEN DAVIDOFF
Omar Shahin, left, the Imam and director of the Islamic Center of Tucson, converses with Rabbi Thomas Louchheim of congregation Or-Chadash as they lead a group of mourners toward the UA mall to participate in a "Unity Rally" last night. During the memorial event, both Shahin and Louchheim joined many other students, professors and Tucsonans in prayer and speech.
Thursday September 13, 2001
Faiths condemn terrorist actions, profess shared belief in God
Local leaders of the Jewish and Islamic faiths came together for a rally on the UA Mall yesterday evening.
The rally began with a parade, which started at the Islamic Center of Tucson, 901 E. First St. Imam and director of the center Omar Shahin led a parade of Jewish, Christian and Islamic people to the University of Arizona Mall. Members of the Islamic Center held signs that stated "Muslim community behind America."
The parade, which was escorted by both Tucson and UA police departments, started with a little more than 40 participants, but ended with approximately 1000 people congregating around the temporary stage on the Mall.
Jewish leaders opened the meeting with a reading of Psalm 23. Some of the audience stood silent while others chanted along with handouts. The audience then held hands together as Hillel Foundation president Joel Simon offered a prayer.
Rabbi Thomas Loucheim of Congregation Or Chadash, 630 N. Craycroft Road, said he was outraged that all Islamic people were blamed as the culprits of the terrorist attacks.
---
"Both of our faiths preach peace. No person who committed these acts is a member of either of our religions."
- Rabbi Thomas Loucheim
---
"When I called Omar (Shahin) the day of the attack and found that both him and his center were being harassed, I cried," he said.
Loucheim said Americans pay the price of constant vulnerability for being the freest country in the world.
He said the attackers' faiths have nothing to do with why they attacked.
"Both of our faiths preach peace," he said. "No person who committed these acts is a member of either of our religions."
Shahin led a group of Islamic men to a traditional prayer before speaking to the crowd.
"Our religions teach the idea, if you want to be loved by God, love your neighbors," he said. "We together worship one God."
Shahin also said the attacks were not against America, but against humanity.
UA President Peter Likins said the prayer brought tears to his eyes.
"It moves me to see there is a unity, and we all now recognize there's a dark side to all of this," Likins said. "People are coming together here today to realize all three of these religions are based on the belief in one God."
The attendees all seemed to share one sentiment.
"We understand that people are angry but we must eradicate the blame religion is being given," Loucheim said.