Day of Caring sends UA volunteers on city-wide spree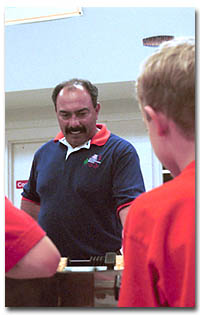 DAVID HARDEN
Mike Delahanty, operations manager for UA Parking and Transportation, watches as kids play foosball at the Rio Boys and Girls Club yesterday afternoon. Delahanty and other UA Parking and Transportation employees volunteered at the club for Tucson's second annual Day of Caring.
Thursday September 13, 2001
18 departments receive paid time off to help local organizations
More than 150 UA employees scattered throughout the city yesterday for Tucson's second annual Day of Caring, a day when community members donate their time to help local organizations in projects they would not normally have the resources or personnel to complete.
"Day of Caring is associated with the United Way Foundation and is a day when we can give back to the community," said Betty Nightengale, the University of Arizona's coordinator for the event. "University employees can take up to four hours and be paid for them to volunteer today. Mostly administrative staff did it, since the academic staff can't cancel classes."
Nightengale said that 18 departments - from athletics to the Bursar's office - mobilized their workers to paint, do yard work or supervise children. They worked in various non-profit agencies like the Family Counseling Agency, The Arizona Children's Association and the Southern Arizona AIDS Foundation.
Cathy Hayes, an accountant for Parking and Transportation Services, volunteered at the El Rio Boys and Girls Club, where she supervised grade school children in their after-school program.
"I want to show the kids and community that (the university) cares," Hayes said. "Of course, the kids haven't really noticed me yet, but they'll remember things like this when they're older. It'll be stuff they can build a foundation on."
The crumbled foundations of the World Trade Center were on the children's minds too, said fellow volunteer Mike Delahanty, operations manager at Parking and Transportation Services.
"I organized a game of bingo for them," Delahanty said. "And they kept asking me if I knew what had happened. They were feeling me out, trying to cope with what was going on."
The children weren't the only ones thinking of the disaster.
"A lot of people called me up this morning asking to participate because of what happened Tuesday," Nightengale said.
Kristie Verduzco, senior office specialist in the Campus Life department, volunteered to tutor people in computer programs for Travel Aid, a non-profit agency that teaches skills to homeless people and people on the verge of homelessness.
"It's ironic that yesterday was the Day of Terror and today was the Day of Caring," she said. "But it showed unity and how the community can come together in such horrible times."
Park Place Mall was the headquarters for Day of Caring, and tents with boxes waited for donations of every type.
"This place is called Caring Central," said Kathy Carlisle, chair of Day of Caring. "We're collecting food for the community, personal hygiene products, paper products, toys and teddy bears. We're also taking a financial collection for the national United Way Relief Fund."
Carlisle said the financial collection would be sent to the East Coast for the relief effort, but the Day of Caring itself was all about the local community.
"As important as (the attacks) are," Carlisle said, "It is also important to realize that disasters of their own magnitude are happening here in Tucson everyday. That's why we're here today, because there is a sense of pride to live in Tucson. We need to give back to it."