Loroľa receives Pac-10 Player of Week honor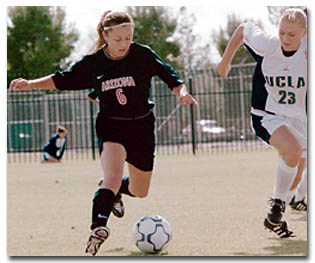 file photo
Senior forward Kristi Loroľa attempts to pass a UCLA defender during a game last season at Murphey Field. Loroľa was named Pac-10 Player of the Week after scoring a school record 5 goals in last week's game against Southern Utah.
Thursday September 13, 2001
Becomes second women's soccer player in UA history
Arizona senior forward Kristi Loroña was named the women's soccer Pacific 10 Conference Player of the Week for Sept. 4-10.
Commissioner Tom Hansen made the announcement earlier this week.
Last Sunday, Loroña came off the bench to score a school-record five goals en route to the Wildcats' 9-1 victory over Southern Utah.
The previous record stood at three goals and was held by three individuals, including Loroña.
The senior's three-goal game came on Nov. 5, 1999 against Oregon State. Former Wildcats Nikki Jones and Jennifer Duran had shared the previous record with Loroña. Jones scored three goals against Gonzaga on Oct. 5, 1997 and against Sacramento State on Oct. 29, 1995.
Duran had three goals against Texas Tech on Nov. 4, 1994.
Loroña, who received a telephone call Tuesday afternoon informing her of the award, said she was proud of her accomplishment.
"It feels great and is an honor, she said. "On Sunday, I was on a high all day. I didn't know I was breaking (the record) because I wasn't shooting for records - I was just scoring goals."
Head coach Cathy Klein said she felt Loroña was deserving of the award and hopes the honor helps establish UA's soccer team as a power within the Pac-10 and among the country.
"Kristi is as capable of scoring these goals as any player," Klein said. "She's poised and she deserves it.
"I just hope our effort each day translates into a higher level of play and we feel proud of our accomplishments."
Loroña becomes just the second UA women's soccer player to receive the honor.
Forward Chrissy Sanford, who logged two goals and two assists against Pepperdine and Wyoming on Oct. 4, 1999, was the first Wildcat in UA history to be named Player of the Week.