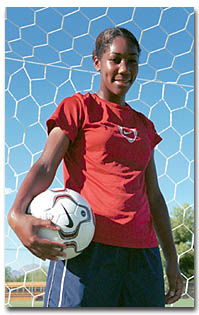 AMY WINKLER
UA freshman midfielder/forward Candice Wilks poses with a soccer ball in front of the net at Murphey Field last week.
Thursday September 13, 2001
Freshman soccer player uses height to dominate opponents
Standing 5-feet-10 inches tall - and growing - it's hard to believe freshman midfielder/forward Candice Wilks was ever short.
However, being just 5-feet-tall entering her freshman year in high school, Wilks was exactly that.
Growing up behind two older sisters that both measure over 5-foot-9 - Tiffany, 24 and Tracee, 22 - Wilks said that her size, made her the target of teasing as a child.
"I got teased, but it was always from my own family," she said. "I was the runt of the family. But, it's just made me tougher."
After a three-inch growth spurt over the last year, Wilks said that she now uses her height to her advantage.
"It's just intimidation," Wilks said. "The girl I'm defending has got to be thinking, 'I have a lot to handle'."
From an early age, the Alta Dena, Calif. native was interested in soccer.
She said that she remembers sitting with her parents while watching her sisters play the game, and knew it was something she wanted to pursue.
"I thought it looked like so much fun when I would watch them play," Wilks said. "Plus, you get a snack in between."
After leading the LaSalle High School Lancers to a league title her senior year and a league championship for her Cerritos Regional Soccer Club Infinity club team in 1999, Wilks was recruited by UA, UCLA and Washington State.
Wilks said that the decision to become a Wildcat was not a difficult one to make.
"I love California and Washington is nice, but (UA) was my first recruiting trip and it was the team that attracted me," Wilks said. "There was definitely a difference in attitude on the team. Everybody's friends here."
After just three games as the freshman's coach, UA head coach Cathy Klein said she is excited to work with what she feels is a very talented player.
"Candice is as fine of an athlete as you're ever going to find," Klein said. "She gives us the ability to get behind defense, win balls in the air and gives us the potential to explode."
In a 9-1 victory against Southern Utah last Sunday, Wilks scored her first three goals of her young collegiate career while helping the Wildcats cruise to just their second victory in 13 games.
Klein, however, said she feels that Wilks' performance against Southern Utah is just the beginning for the freshman.
"Candice hasn't had her best game," Klein said. "She has so much more potential, a lot more than we've seen."
While doctors say she is still growing - some speculate up to two more inches - Wilks said that she is finally comfortable with where she stands.
"I think I'm fine the way I am," she said. "I think this is good. Now, everyone assumes that I'm a basketball player or volleyball player and I say, 'No, I play soccer.'"