Madagascar band's show will go on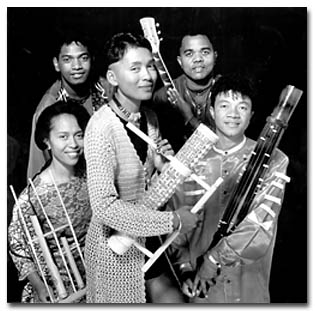 Courtesy photo
Madagascar musical group Tarika performs tonight at 8 at International Arts Center Nations Hall, 516 N. Fifth Ave.
Aaron Cowman
---
ARIZONA DAILY WILDCAT
Thursday September 13, 2001
Hanitra (pronounced "Anch") Rasoanaivo is part of Madagascar's most successful music group, Tarika. She and her four band mates will play the International Arts Center Nations Hall, 516 N. Fifth Avenue, tomorrow at 8 p.m.
Tarika released its seventh major album, Soul Makassar, earlier this year.
Lead singer Hanitra said that the release of their first album was one of the biggest highlights of their lives.
"Our hearts were beating very fast," Rasoanaivo said. "We would have been happy to die then."
The band's music is filled with a variety of exotic instruments native to their country and plenty of percussion. There will be a wooden dance floor at the performance so the audience can participate.
Tarika has visited Tucson twice before-the last time was more than five years ago. Rasoanaivo said that she appreciates American audiences every time the band's schedule leads them here.
"We've been to the states many times," she said. "I think Americans have a tendency to let themselves go and be free. We've always had good reactions from the United States."
The music is fueled by and reflects real-life issues the group has dealt with in the past.
"I sing about problems with the environment and political issues," Rasoanaivo said.
Tarika has played together for 10 years, and according to Rasoanaivo, the experience has been nothing but joy.
"I originally auditioned them (the other band members)," she said. "We've gotten to know each other. We get along fine, and now I can work with other people."
Rasoanaivo, however, began much earlier.
"I began singing when I was 4," she said. "I sang solos at ceremonies."
Rasoanaivo said children and adults would enjoy the music even if they couldn't fully understand the message.
"People from 7 to 70 could enjoy the show," she said. "I'm sure every age is trying to get what they can out of it. There are a lot of things you can familiarize with."
Tucson is one of the many stops on the band's month-long tour, which includes such places as Chicago, Kansas City, Berkeley and Los Angeles. They recently played a concert in New York City and have since been sidelined by the recent events.
"They played in New York on Monday," said Don Gest, executive director of In Concert!, the band's Tucson sponsor. "And they watched everything unfold on Tuesday."
Unable to fly to Tucson because of airport closures, the band has decided to continue on with the tour and is currently driving across the nation.
"They feel that they want to play," Gest said. "They have a political message, and they want to keep going."