Muslim-Christian fighting flares in Nigeria's northern city of Jos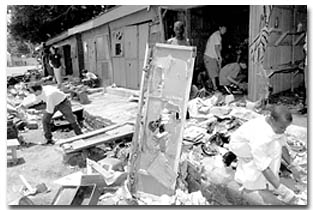 Associated Press
Tracy Goen (left), a Christian missionary from Texas, helps local Muslim traders retrieve the remaining goods from their vandalized shops at the main market in Jos, Nigeria, Monday following a weekend of religious fighting.
Associated Press
---
ARIZONA DAILY WILDCAT
Thursday September 13, 2001
ABUJA, Nigeria - Muslims and Christians fought hand-to-hand yesterday in a market in Nigeria's northern city of Jos, witnesses said, scattering hungry customers at food stalls set up for the first time since a deadly rampage broke out five days ago.
Police fired tear gas and live ammunition to quell yesterdays fighting at the main market, which persisted for just under two hours. The extent of any new casualties was not known.
The Nigerian Red Cross estimates that fighting between Friday to Sunday claimed 165 lives in the hilltop city of several million, 225 miles north of Nigeria's capital, Abuja.
Residents say the toll is likely much higher in the violence, which left tens of thousands of homes, church, mosques and shops in smoking ruins.
Nigerian police - fearing a high toll would raise tensions - have played down the bloodletting and confirmed only 51 deaths.
Jos resident Susan Akele said in a telephone interview that commuters were turned back from the city center yesterday by road blocks ? some set up by police, others by armed gangs.
Nigeria - Africa's most populous nation - is split into an overwhelmingly Muslim north and a predominantly Christian south, with tension between the two communities increasing.
Missionary Craig Ewoldt of Saline, Mich., who works for a U.S.-based Bible distribution network, said the latest shooting could be heard for miles around.
"The area around the market was calm in the morning, but someone we know called us later to say they were trapped and couldn't go out because people were fighting again," Ewoldt said by telephone.
Many people were running out of food. Ewoldt said he and other missionaries had been buying and distributing food to some impoverished residents until shortly before the latest violence began.
It was unclear whether news of the Tuesday's attacks in Washington and New York had influenced the resurgence in violence.
Some Christian residents said armed Muslim men in one neighborhood had been celebrating the assault on the United States by gathering in the streets to shout: "Allah be praised, down with Christians!" The claim could not be independently confirmed.
President Olusegun Obasanjo condemned the U.S. attacks in a state TV address yesterday to his nation of 120 million.
Jos, a predominantly Christian city with a large Muslim minority, has long been a base for foreign Christian missions owing to its climate, its beauty and - until now - its serenity.
Residents have offered different explanations for what started the conflict Friday. Some said it broke out after a Christian woman tried to cross a street outside a mosque where Muslim men were knelt in Friday evening prayers, touching off an argument.
Introduction of Shariah, or Islamic law, in several northern states more than a year ago heightened tension between Muslims and Christians. Since then, northern Nigerian communities have repeatedly exploded into violence, often killing hundreds at a time.