Security intensifies at Islamic Center, campuswide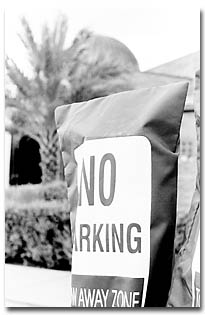 RANDY METCALF
Parking meters were covered in front of the Islamic Center of Tucson yesterday as a precautionary measure after Tuesday's attacks. The center has received a dozen threatening calls and letters in the past few days.
By David Halperin
---
ARIZONA DAILY WILDCAT
Friday September 14, 2001
Phone, letter threats taken seriously, officials say
Reports of attacks against Islamic students on the UA campus are still unfounded rumors, said Omar Shahin, Imam and director of the Islamic Center of Tucson.
Shahin said that the center has received 10 "minor" threatening phone calls and two letters, but that there have been no substantiated reports of attacks against Muslims on the University of Arizona campus. Still, police said no reports will be taken lightly.
"We take all reports seriously because they are criminal in nature," said Sgt. Marco Balboa of the Tucson Police Department. "We review all cases to see if there is a potential follow up."
Since Tuesday, the parking meters surrounding the Islamic Center, 901 E. First St., have been temporarily covered by "no-parking" bags as a precautionary measure.
"Obviously the parking was shut off for security reasons," Balboa said, "We don't confirm any security measures we take."
Shahin said police have also been monitoring the center.
"This was done to protect the Islamic Center," Shahin said. "We appreciate it, (the police) are helpful and we are working together to keep everything calm."
The Islamic Center, which also holds preschool through seventh grade classes throughout the week, has closed until Monday.
Cmdr. Brian Seastone of the University of Arizona Police Department said department officials have put the entire university on high alert and are not concerned with only one area.
"The entire campus is on heightened awareness," he said. "We are checking the pulse of the community."
Despite the increased security, UA Islamic students continued to go to classes as normal yesterday.
"I'm not going to change my daily routine," said Jassem Khan, industrial engineering sophomore and official treasurer of the Muslim Student Association. "(The terrorist act) shows the person who did it had no understanding of his religion. The act that has taken place is totally against humanity. The person who did it had no feelings at all."
Another Islamic student said people should not blame the Muslim community as a whole for the actions of a few.
"We are first of all Americans," said Ali Amjad, a math graduate student. "This affects us all."
Shahin said students and other Tucsonans have come to the Islamic Center to show their support and good will toward the local Islamic community.
"There have been many good people who have given me great feelings," he said.