Muslims concerned about racism after attacks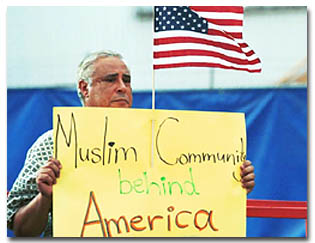 BEN DAVIDOFF
University of Arizona professor of radiology and nuclear medicine Fayez Swailem holds a sign pleading for UA and the United States to understand the Muslim position against the terrorist attacks.
By Marianne Green
---
ARIZONA DAILY WILDCAT
Friday September 14, 2001
UA community offers its support
Muslims in the University of Arizona community fear the terrorist attacks on America will result in racism against them and wish to remind fellow students that their religion does not support these acts.
Authorities are speculating that the terrorists who attacked the World Trade Center and the Pentagon Tuesday morning are Muslim supporters of Osama bin Laden, an international terrorist from Afghanistan.
Reports of violence against Arab-Americans have filtered through the news in the U.S.
Mosques have been vandalized, rocks thrown at Arab school buses and threatening telephone calls made said Sgt. Marco Balboa of the Tucson Police Department. He reported that people have called in claiming they have been threatened due to their nationality, though no specific nationality was mentioned in those reports.
"We definitely have received more calls than usual for threats," Balboa said.
Back on campus, Muslim students said they still worry that they will be discriminated against.
"I fear that people are going to look at me differently because I am Muslim," said Talal Al-nassar, a computer engineering sophomore.
UA President Peter Likins made a statement yesterday condemning the harassment that has taken place against Muslims on campus.
"I have been receiving reports that my fears of irrational retribution against members of our community are being realized in the form of death threats and harassment of Islamic students," he said in a press release. "This behavior is a disgrace to our university and will not be tolerated."
Likins added that the police should be notified immediately if any threats against the Muslim community are made.
"I must also rely on every responsible member of the campus community to speak out against this misdirection of anger that is properly focused on the specific villains who committed these atrocities," he said.
Those working at nearby restaurants said they have also experienced due to the attacks. Sinbad's, a Middle Eastern restaurant owned and operated by Muslims located at 810 E. University Blvd., received a phone call Tuesday afternoon warning the owners to "be careful."
The restaurant's manager knew the caller could have been threatening the restaurant, but took it as a "friendly warning."
"We closed the restaurant early, but not because of the (phone) call - because we felt we should pay our condolences to those who lost their lives," said Khaled Bamyeh, the kitchen manager at Sinbad's.
Bamyeh added that he hopes that the Tucson community will not blame the Muslims for the attacks.
"We are Americans too," Bamyeh said. "This is a tough time for Muslims everywhere."
Muslims at the UA discussed their concerns about their religion being targeted in the attacks.
One student condemned the attack for its violence and for the claim that it was done for "jihad."
"Jihad means to fight for the sake of God," said Heithem Shwehdi, an interdisciplinary studies senior. "This is not jihad."
Swehdi expressed that the attacks were not representative of the Muslim religion.
"The Muslim religion does not say go kill innocent people," he said. "This is not our religion, we are not a part of this. Islam comes from a word meaning 'peace' and the religion tells us to love the neighbor and respect the law. Islam condemns this act."
Omar Shahin, Imam and director of the Islamic Center of Tucson, 901 E. First St., also declared that the acts were not supported by any Muslims.
"We should stand together against these terrorists," Shahin said at a prayer service on campus Wednesday. "(The terrorists) just want to kill. Muslims do not kill."
A press release from the Islamic Center emphasized the importance of not stereotyping the Muslim community.
"We would like to remind all that victims of this horrific act include people from all faiths and backgrounds, and urge all to exercise restraint and not to rush to judgment," the press release said.
Muslims from all over the world have condemned the terrorist attacks on the United States. Afghanistan, Libya and Pakistan are just a few of the countries whose citizens have expressed their grief.
Many UA students said they support the Muslim community on campus.
"The Muslims (at UA) had nothing to do with this," said Daniel Pack, a media arts freshman. "I do not blame them at all."
Another UA freshman agreed.
"There is something wrong with society if they accuse a whole community for one person's acts," said philosophy freshman Gary Brandt. Even though many support the Muslims at UA, they are still worried."
"Every human is worried," Al-nassar added. Bin Laden is Muslim, and he (may) be responsible for all of this," - and that makes all Muslims a target, Alnassar said.
The Muslim faith should not be held responsible because of one Muslim's acts, Al-nassar said. He is concerned about the racism that may occur.
"May God grant them the wisdom to not accuse a person because of their religion," he said.