Commentary: No time for playing games
By Chris Martin
---
ARIZONA DAILY WILDCAT
Friday September 14, 2001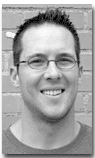 Chris Martin

I haven't felt right since Tuesday morning.

Listening to the radio reports and watching newscasts of collapsing buildings, crashed planes, and people jumping from the World Trade Center has scarred me.

I can't fathom the loss of human life and the agony of thousands of innocent families who are missing fathers, mothers, sons, daughters, friends, and other loved ones.

Of the thousands missing though, one person in particular sticks out in my mind - Brad Hoorn.

Brad, 22, was the older brother of a former University of Arizona student and a family friend.

Brad - who went to high school with me and became a good friend with my younger sister - was an extremely ambitious and talented young man who recently graduated from Yale and immediately went to work for Fred Alger Management Inc. in New York City.

On Tuesday morning, Brad arrived for work at 7:30 and went up to his office on the 93rd floor of the World Trade Center's north tower.

It was exactly an hour and 15 minutes later that American Airlines flight 11 crashed directly into the north tower, only a floor below Brad.

No one has heard from Brad since and his parents are beginning to give up hope for his survival.

In all reality, Brad probably never knew what happened. He, like so many others stuck on the upper floors, probably instantly perished at the moment flight 11 hit the north tower.

What happened to Brad and thousands of others cannot be fairly described in words. The emptiness I feel in my stomach and the sorrow I feel for his parents and younger sister are indescribable.

The United States has experienced maybe its most tragic day in history and this country should be given adequate time to mourn.

It is important to realize that mourning does not include watching or attending sporting events. Sitting on your couch and cheering as some guy scoring a touchdown is no way to honor the thousands of men and women who lost their lives on Tuesday. Doesn't it all seem a little insignificant anyway?

It's relieving to see the rest of the sports world agrees.

Instead of watching sports this weekend, we will have the opportunity to help contribute toward one of the biggest rallies in modern history.

As Americans, we need to go give blood. It might not be needed on the East Coast, but Arizona still faces a shortage.

We need to go make a donation to the Salvation Army, Red Cross, or World Vision Relief Fund.

We need to buy flags and hang them out our dorms, apartments and houses to let these terrorists know we stand united.

Maybe most importantly, we need to say a prayer for the victims and their families.

There is a time and place for sports, of course, but this isn't one of them.

Let's contribute to the only homefield advantage that matters right now - America's.