Esteban enters audiences' hearts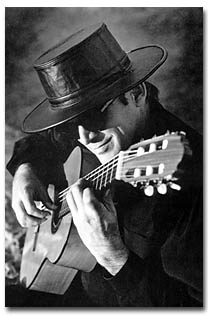 Photo courtesy of Carol Petrozello
Esteban will perform at 7 p.m. and 9 p.m. tomorrow at Crowder Hall in the Fine Arts Complex. The guitarist will play a variety of Latin and flamenco music.
By Lisa Lucas
---
ARIZONA DAILY WILDCAT
Friday September 14, 2001
Guitarist to perform benefit concert tomorrow
Expectations for tomorrow night's "Enter the Heart" performance by guitarist Esteban are yet unknown - even by those who have organized the benefit concert.
Carol Petrozzello, information specialist with the University of Arizona School of Music, said unlike most musical performances at the UA, there will not be a formal program for Esteban's performance tomorrow night.
Petrozzello said the main reason for this is simply that the specifics of Esteban's show have not yet been disclosed to the music department.
However, Yolanda Solis, public relations representative of Daystar Productions, gave a general overview of what may be expected.
"There will be some solos," she said. "(But) he will (also) be playing with his band."
The group consists of a drummer, percussionist, trumpet, bass and keyboard players. As in most of Esteban's performances, the show will include music of varying genres including Latin, flamenco and classical guitar selections.
Although Esteban has not performed at the UA before, there appear to be several loyal fans in the area.
This fan loyalty came to light at Esteban's guest appearances last weekend at two local Barnes & Noble bookstores.
Petrozzello said during these two events many fans left the building with words of adoration and even love for the performer.
"I was at the (Broadway Boulevard) Barnes & Noble store last Saturday where he did a guest appearance," Petrozzello said. "I can tell you there were a lot of big fans (that) came up (to me) and said 'Oh, we just love him!'"
"(Esteban's) music can be healing to people," Solis said. "He really touches people - he touches their hearts."
Petrozzello added that the fans present at Esteban's Barnes & Noble appearances ranged from mothers with their infants to "older folks" and said she hopes the obvious interest in the guest appearances will reflect the potential interest in tomorrow night's shows.
It is even possible that, due to the overwhelming response to last weekend's bookstore performances, audiences for Esteban's two shows this weekend will be full - if not sold out.
"We have two shows and we seat approximately 500 (audience members) at each show," Petrozzello said. "Hopefully we'll be sold out - I know that there are some really good seats still available."
The proceeds from Esteban's performance on Saturday will be used to benefit the UA music department.
"I don't think it is geared to a specific project," Petrozzello said. "It is basically proceeds to benefit the School of Music."
Showings will be at 7 and 9 p.m. on Saturday in Crowder Hall, located on the UA campus in the Music Building. Tickets are $25 for reserved seating. Call 621-1162 for more ticket information.