Amtrak train crashes, catches fire in Utah; six injured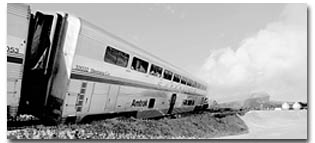 Associated Press
Firefighters battle the burning engines following a collision between an Amtrak passenger train and a freight train yesterday east of Wendover, Utah. The passenger train crashed into a freight train, derailed and caught fire yesterday, but all passengers escaped without serious injury, officials said.
By Associated Press
---
ARIZONA DAILY WILDCAT
Friday September 14, 2001
WENDOVER, Utah - An Amtrak train carrying stranded airline passengers and others to California yesterday crashed into a freight train, derailed and caught fire in the western Utah desert. There were no serious injuries.
"It knocked me out of my chair and almost instantly the car filled with dust," said Scott Stopper, 41, who was stranded in Denver after taking a flight Tuesday.
"Instead of taking a flight home, I thought it would be safer to take a train," said Stopper, who lives in Campbell, Calif. "Now we have to take a bus."
The derailed train was the California Zephyr heading from Chicago to Emeryville, Calif., in the San Francisco Bay area, said Amtrak spokeswoman Cheryle Jackson. Amtrak said 263 passengers and 14 crew members were on board. Two locomotives were pulling 15 cars, including seven passenger cars.
Authorities said it appeared the collision happened as the eastbound Union Pacific freight train was pulling onto a siding to let the Amtrak train pass. Tooele County Sheriff Frank Scharmann said the Amtrak train was going about 30 mph.
Utah Public Safety Commissioner Robert Flowers said the Amtrak train should have slowed down even more to allow the freight to get out of the way.
Peggy Polk was awakened by a loud bang and the swaying of the train.
"My daughter was hollering, there was smoke coming into the cars and we were going to jump out of the windows," Polk, 51, of Richmond, Calif., said from LDS Hospital in Salt Lake City.
Polk, who suffers from asthma, had difficulty breathing. She was one of six people taken to hospitals for treatment of broken bones and smoke inhalation.
Amtrak officials said at least one locomotive and a baggage car had burned but all of the cars remained upright.
Uninjured passengers were to complete their journeys by bus.
John and Emilie Kovich, of Rockville, Ind., were in a sleeper car when the trains collided and they were left with only their pajamas.
"We have nothing," said John Kovich, wearing only his purple-and-white striped pajamas.
Red Cross volunteers were going to buy the couple clothes so they could continue their cross-country trip.
The accident happened east of Wendover at about 5:30 a.m. in a desolate area of salt flats and desert. Wendover is in west-central Utah on the Nevada line, about 120 miles west of Salt Lake City.