'Fresh' start for swimming and diving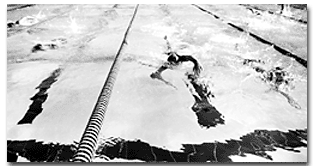 BEN DAVIDOFF/Arizona Daily Wildcat
UA swimmers do some practice laps yesterday at the Hillenbrand Aquatic Center. This year's swim team features six freshmen on the men's team, and four on the women's team.
By Nick Zeckets
---
ARIZONA DAILY WILDCAT
Tuesday September 18, 2001
UA's swimming and diving team will feature some new faces this season.
The men's team has six freshmen on board this year, while the women's squad has added four. The new members are in their third week of practice and being placed with specific coaches relative to their strokes and distances.
On the women's side, head coach Frank Busch's outlook is positive.
"Our freshman class is strong. There isn't one girl that can't be an All-American," he said.
Freshman Artemis Daphnis talked about the women's season prospects.
"I think we're going to have a really great season," Daphnis said. "I think we'll really be up there."
The coaching staff also convinced freshman freestyler and backstroker Jessica Hayes, who hails from Irvine, Calif., to come to Tucson. Hayes swam for former Wildcat standout Amanda Beard's club team, the Novaquatics.
"I really liked the people here - the team, the coaches," she said.
Freshman Brianna Loecher spoke of her final high school state meet. Busch attended, but knew that many in attendance would want to congratulate Loecher on her final swim, so he didn't spend much time with her.
"Frank came out to my high school meet and that was probably the most encouraging thing," she said. "He came all the way out there and he didn't want to take away from my glory.
"I knew that if I came here I'd be training among the best of the best in the country. Hopefully someday I'll be at the level they're at."
Many of the new swimmers noted the coaching staff as a major reason they decided to come to Arizona.
For the men, the six new faces represent nearly one-third of the team. Frank Busch commented on the loss of so many swimmers.
"We graduated a lot of freestylers on the men's side. Those are big shoes to fill," he said.
Freshman freestyler and individual medley swimmer Aram Kevorkian commented on the men's season outlook.
"We've got a good young team. Hopefully we'll make top five this year (at NCAAs)," he said.
Kevorkian talked about the distance program at UA in making his decision to come here.
"What brought me here was the distance legacy they have here," he said. "The best distance swimmers in the country come here and I wanted to be a part of that too."
"I liked the coaching staff a lot," said freshman middle-distance freestyler Chris Trimble. "To be able to come here and have a chance to swim is great - it's been a dream."
Trimble's motivations were also family-driven.
"My dad went to ASU so all my life, since I've lived here, there was no way I could go anywhere else," he said. "I wanted to go here too so that (my father) would have to cheer for the U of A for once in his life."
Freshman Tim Harper came here in part because his family is host to a number of Wildcat alumni.
"My dad went here and my grandparents and my mom went here," he said. "Lots of my aunts and uncles went here too."
Freshman Max Leassner had a special connection with Frank Busch - they both hail from the same high school.
"In Cincinatti, the swimming community's real small and I wanted to get away from all that," he said. "Frank went to my high school. I just came out here to get away from everything and be challenged."
Training under Busch was a strong motivator for freshman Chad Ainsworth.
"I wanted to go somewhere where I would be challenged," he said.
In talking about end-of-season goals, nearly all the freshmen mentioned qualifying for NCAAs.
Freshman breaststroker and individual medley swimmer Nate Stevens talked about the season prospects for the men's team.
"I see (the men's team) developing a lot," he said. "We're a young team, and I think we'll grow together at the end of the year."
On coming to UA, Stevens indicated a particular moment on his recruiting trip.
"This was the biggest out-of-the-blue decision I've made in my life," he said. "What drew me here was on my recruiting trip Frank told me this was real."
Busch commented on the two teams' prospects as well.
"Both of (the men's and women's) teams are really solid teams, as they were last year," he said. "We're talented."
He wouldn't, however, make any early season predictions as to where the teams would place, but did mention the women were very positive about NCAAs.
Freshman Emily Mason, who won the 200m butterfly at the National Championships last summer and placed third in that event at the 2000 Olympic Trials, is also joining the team but is out right now due to an eye infection.