Commentary: The only game that really counted
By Maxx Wolfson
---
ARIZONA DAILY WILDCAT
Tuesday September 18, 2001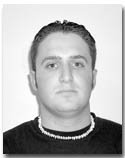 Ê

Maxx Wolfson

There were some huge sporting events cancelled or postponed last weekend.

This was supposed to have been one of, if not the best, weekends in college football all season. The NFL lost out on its second week of the season, and it may mean that fewer teams make the playoffs. The sizzle was taken out of the stretch run of the baseball season, as games that could determine who makes the playoffs were put off until a later date.

Furthermore, no one has seen Barry Bonds light anyone up for almost a week. And the Ryder Cup, perhaps the most popular international annual sporting event in the world, won't be played until next year.

However, no game that was cancelled over the weekend might have had a bigger impact on a season than the No.3 Arizona women's volleyball team's match against the No. 4 Stanford Cardinal.

I know what you're thinking - how can a women's volleyball game be the biggest game cancelled last week?

Give me a second here, OK?

Arizona and Stanford are the two best teams in the Pacific 10 Conference, if not the country, period. Eighth-ranked UCLA and No. 5 USC are tough, but the road to the conference title will go through Tucson or Palo Alto.

If this game cannot be rescheduled, it could be detrimental to the rest of the Pac-10 teams that are vying for a conference title - especially the Bruins and Trojans - since it means neither of those teams will have to suffer a loss at the hands of the other.

Both teams would have to play Stanford and Arizona two times this season, but the Wildcats and Cardinal will only play each other once.

That is why this game needs to be rescheduled.

The game was supposed to feature Stanford Olympian junior Logan Tom.

Tom, the only collegiate volleyball player to play in the 2000 Summer Olympics in Sydney, leads the Cardinal in kills with 91.

However, UA junior outside hitter Lisa Rutledge, who has 69 kills, has a higher kills-per-game percentage with an average of 4.93 to Tom's 4.55.

This game would have featured two freshmen - UA defensive specialist Kelli Mulvany and Stanford's outside hitter Oganna Nnamani.

This game has more subplots than an episode of "Seinfeld."

Stanford is also a team that is looking for revenge against the Wildcats - for the first time in UA history, the Wildcats swept the Cardinal last season.

The game would've also have featured new Stanford head coach John Dunning against UA head coach Dave Rubio.

Both coaches are considered two of the best in the sport. But, so far I've yet to hear anyone rave about Dunning's dapper sense of style. We'll give him time.

Rubio said he realizes how important this game is in the scope of the Pac-10 season.

"It would be very difficult to determine a real winner if we did not play this match," he said. "I don't think we can afford to eliminate it. Right now we are trying to figure out what the best solution would be in rescheduling that game."

This game could have been the best game of the year in volleyball.

Hopefully we won't have to wait until Nov. 17, when the Cardinal come down to the Old Pueblo to see the two teams square off.

Will this game ever be played? As of now, who knows?

But it would be a real tragedy if it didn't. I really want to see Logan Tom play. And Rutledge, too.