Gun battles erupt in Palestinian territories; U.S. again tries to broker truce talks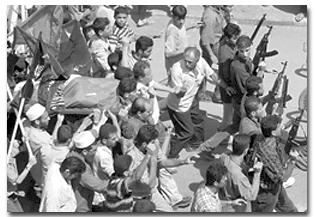 Associated Press
Palestinian gunmen carrying their automatic rifles lead the funeral procession of Abdelsalam Iliam, 35, wrapped in the Palestinian flag, on the streets of the Rafah refugee camp, southern Gaza Strip, yesteday. Abdelsalam Iliam was shot dead during an exchange of fire between Israeli soldiers and Palestinian gunmen in Rafah Sunday.
By Associated Press
---
ARIZONA DAILY WILDCAT
Tuesday September 18, 2001
JERUSALEM - Gun battles in the West Bank and Gaza Strip left one Palestinian dead and 15 wounded yesterday, including five boys. Four Israeli soldiers were also hurt in the fighting, which came despite U.S. efforts to broker truce talks.
In one clash near the West Bank town of Ramallah, Israeli tank shells hit a mosque, a kindergarten and a rescue vehicle, Palestinians said.
The violence took place after Israeli Prime Minister Ariel Sharon told Secretary of State Colin Powell he would only permit high-level truce talks with the Palestinians after 48 hours without violence. Sharon said he doubted Palestinian leader Yasser Arafat was making a serious effort to stop the fighting.
Arafat said yesterday that he had issued "strong and clear instructions for a full commitment to a cease-fire."
"I hope that the Israeli government will reply to this message of peace and to take the decision to cease fire, too," Arafat said as part of greetings he sent to Israelis for the Jewish New Year, which began at sundown Monday.
The Palestinians, meanwhile, denounced Israel's decision to establish a buffer zone with the West Bank in a bid to prevent suicide bombers from entering Israel. Israel says the zone would initially extend about 20 miles along the West Bank border from Jenin to Tulkarem, cities where it says several suicide attacks originated.
An army statement said that starting Sept. 24, any Palestinian attempting to enter the sealed area would be "arrested and sentenced."
Powell called Sharon late Sunday and asked to be briefed on efforts to arrange Israeli-Palestinian truce talks. Continued Mideast fighting is expected to hamper U.S. efforts to bring Arab states into an international anti-terror coalition it is building in the wake of last week's attacks on New York and the Pentagon.
Yesterday's violence began before dawn in the Rafah refugee camp in the Gaza Strip, near the Egyptian border. Each side said the other started the shooting.
A 35-year-old Palestinian man, described by witnesses as mentally handicapped, wandered in the streets during the confrontation and was killed by shots from an Israeli watchtower, Palestinian doctors said. The Israeli army said three soldiers were lightly injured.
Several hours later, Palestinian children walking home from school threw stones at Israeli military vehicles near the Jewish settlement of Netzarim in the Gaza Strip, witnesses said. Soldiers fired live rounds at the children, wounding five, including a 12-year-old boy who was in critical condition with a bullet in the head, Palestinian doctors said.
The army said about 200 Palestinians threw stones and firebombs at soldiers near Netzarim, and that soldiers fired in the air before shooting at the rioters.
A heavy gun battle also erupted on the outskirts of Ramallah, in the Beituniya neighborhood. The Israeli military said it began when Palestinians opened fire on an army post, wounding an Israeli soldier.
Troops returned fire, and at one point an Israeli tank shelled Palestinian buildings, hitting a coffee shop, a private home, a mosque, a kindergarten and a rescue vehicle, reporters said.
One shell landed in the yard of the kindergarten and about 150 children were evacuated, but none was hurt. In the mosque, three worshippers were wounded by shrapnel. Five rescue workers were also injured, doctors said.
The army said it had received no complaints of damage from Palestinian liaison officers.
Ribhiyeh Doleh, 55, said her home was hit by a shell. "I heard a big boom ... and the whole wall fell over me, and fire started in the house," she said.
Also yesterday, two Palestinians died of injuries sustained in earlier clashes. The deaths brought the number of people killed on the Palestinian side since fighting began a year ago to 635. Another 175 people have been killed on the Israeli side.