I know what you did last summer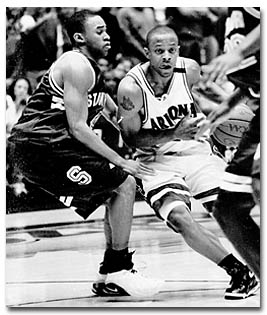 KEVIN KLAUS
UA junior point guard Jason Gardner drives into the lane in a game against Stanford last season in McKale Center. Gardner was one of three UA players to participate in this summer's Nike basketball camp.
By Jeff Lund
---
ARIZONA DAILY WILDCAT
Wednesday September 19, 2001
Three Wildcats kept their skills sharp in offseason camps
Although the men's basketball team's fall schedule does not start until November, some UA players haven't taken a break since their last game in Minneapolis in March.
Three juniors- guard Jason Gardner, guard/forward Ricky Anderson and forward Luke Walton participated in organized basketball during the summer.
Gardner was part of a New York City basketball team - led by St. John's head coach Mike Jarvis - that traveled to Greece for a five-game tour. Although the team finished with a 1-4 record, Gardner said the trip was worthwhile.
"Going over to Greece with a bunch of guys I didn't know and playing with some young guys is kind of like the (Arizona) team this year," Gardner said. "(It) gave me a lot of confidence."
While on tour, Gardner averaged 17.2 points per game in a three-game tournament against the national squads from Greece, Poland and Israel. He also recorded 14 steals and 12 assists over the series.
In addition, Gardner attended a Nike basketball camp in Indianapolis with Anderson and Walton.
"I think the trip to Greece was more of a reward for (Gardner's) hard work last year," UA associate head coach Jim Rosborough said. "He was invited to tour and had the chance to play in some games. The Nike camp was more structured."
Anderson said competing with top-flight players from around the country at the Nike camp has given him confidence coming into this season.
"Basketball-wise, at the Nike camp it was a great experience for me," Anderson said. "It boosted my confidence. I know I can hang with the best in the nation."
The Nike camp gave Anderson a chance to compete against some of the nations best big men. Drew Gooden and Nick Collison of Kansas and Indiana's Jared Jeffries - all of whom are taller than the 6-foot-9 Anderson - regularly matched up against the smaller UA player.
"I worked all summer with Drew Gooden and Nick Collison from Kansas," Anderson said. "I guarded them and I didn't feel any weaker."
Anderson also said the tournament gave him and his two teammates a chance to prove they could be a formidable squad this season.
"It was great not only for me," Anderson said, "But having Luke and Jason out there with me showing people that Arizona is going to be for real. Luke and I played so well together."
Anderson and Walton also played at a Michael Jordan basketball camp in Santa Barbara, Calif., last month, Rosborough said.
"Jordan was there," Rosborough said. "They saw him, but I don't know if they played with him."
Rosborough said Arizona's core of Anderson, Gardner and Walton is poised to make this season a successful one.
"With Luke and Jason and Ricky, we are very comparable to any team's top three," Rosborough said. " It's hard to say that this year will be like last year, but we are talented enough in our young kids. The future is very bright."
While there seems to be little expected of this year's Wildcats by many college basketball analysts, who haven't placed Arizona among the best teams, Gardner thinks that low rankings will only raise the team's performance.
"I think (the rankings are) motivation to go out and work harder," Gardner said. "When the games start and the ball is thrown up (we need to) just go out and prove to everyone that Arizona is still in the top."