Saragosa tops among nation's hitters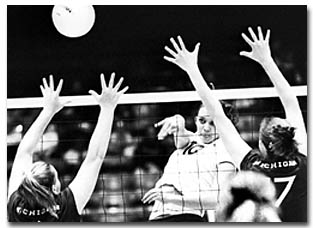 file photo
UA junior middle blocker Stefani Saragosa winds up to kill a ball against Michigan's volleyball team Sept. 7 in McKale Center. Saragosa's .569 hitting percentage ranks No. 1 in the NCAA.
By Brian Penso
---
ARIZONA DAILY WILDCAT
Wednesday September 19, 2001
Coming into the season, UA women's volleyball head coach David Rubio said he expected junior middle blocker Stefani Saragosa to be the heir apparent to former UA middle blocker Marisa DaLee.
Nearly amonth into the season, the coach said Saragosa has answered the challenge.
Currently, she leads the nation with a .569 hitting percentage.
"She is so important to us," junior outside hitter Lisa Rutledge said. "Without her, there is no way we could do the things we do on the court. Her success is also a tribute to Dana (Burkholder) and Jill (Talbot), as they all add to our offensive mix, which makes it possible for us to be successful offensively."
Rubio said anything above a .300 hitting percentage is good in his eyes.
"I think a good hitting clip is above a .300," Rubio said. "At .56 or so she is real successful offensively, and I just hope that she can continue to be successful on the court."
DaLee finished her career as Arizona's all-time leader in hitting percentage with a .397 career average.
DaLee also finished among the nation's best hitters last season with a .437 hitting percentage, the highest single season mark in school history.
---
The Wildcats have not played a competitive match since Sept. 9 due to the terrorist attacks last week.
The Pacific 10 Conference cancelled all of its sporting events last week, causing No. 3 Arizona to miss its much-anticipated match with No. 4 Stanford.
"I am really glad that we did not play last weekend," senior outside hitter Jill Talbot said. "If we would have went out there and played the match, our minds wouldn't have been focused. I am glad to see sports were cancelled for the weekend because it shows how unimportant sports are on the scale of life."
UA's 2001 schedule has the Wildcats playing at least one match each week until Thanksgiving.
During the past week, the Wildcats had some intense practices, and players said it has taken a toll on them.
"Us playing a match will be a relief for us," Talbot said. "Having a lot of practice is draining mentally and physically. Playing a match is our reward for working so hard. It will just be great to get out there and compete."
---
Rubio is not sure when the Pac-10 is going to reschedule the team's postponed matches against Stanford and California, Rubio said he is certain that the games will be moved in a fair manner for all teams involved.
With the conference being so competitive, Rubio said it would be unfair for UCLA and USC to have to play every team twice while Stanford and Arizona would only meet once during the regular season.
"The event will be made up," Rubio said. "The athletic directors are meeting (today) and they will determine when and where the games will be made up."