By Sean Joyce
---
ARIZONA DAILY WILDCAT
Wednesday September 19, 2001
New York Mets reliever and New York native John Franco turned 41 Monday. Unfortunately for him and the rest of the country, there was really no reason to celebrate.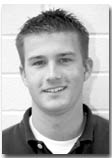 Sean Joyce
Franco personifies the (stereo)typical blue-collar New Yorker - hardworking and cocksure. His father collected garbage in his Brooklyn neighborhoodwhile working for Public Works. Two of his brothers are New York Fire Department firefighters. And while Franco is a baseball player, his pronounced Brooklyn accent and demeanor betray his roots.
A Met since the early '90s, Franco endured everything New York could throw at him. Throughout his career, he's been cursed at, booed and run off the field when he wasn't winning and conversely lavished with adoration when he was. There was no one more suited to be a closer in New York than he.
On Monday night he was supposed to be at Shea Stadium playing for his team, which is suffering through a disappointing campaign one year removed from playing their hated rivals, the Yankees, in the World Series. But a disappointing record doesn't seem to mean that much to Franco - or the rest of New York - anymore.
What matters are the thousands of families in the tri-state area that are still waiting to hear from missing family and friends. Baseball is an afterthought.
However, the Mets, along with the rest of Major League Baseball, are taking the field again. While all the players confess to having mixed emotions about resuming their sport in wake of the tragedy, there's probably no player in the sport more torn than Franco - and perhaps no team more torn than the Mets.
There was supposed to be a series at Shea Stadium this week, but it was moved to Pittsburgh because the venue's parking lot is now a planning ground for rescue and recovery efforts. Only a week ago, the lot provided an awe-inspiring view of the Manhattan skyline. There won't be any cars parked there for a while, and that view will never be the same.
The Mets honored New York City by wearing hats from the various groups participating in the rescue effort during their pre-game warm-ups. The team New York supported last year during their amazing march into the Subway Series is now trying to return that support any way they can.
The "Star-Spangled Banner," sung before their first game back, brought the team to an emotional peak. Players and coaches alike were extremely touched by the words of the fabled song.
And it wasn't just the U.S. natives on the team who were touched by the anthem. Armando Benitez, a Dominican native, stood next to his teammates and sang in unison with New Jersey's Al Leiter, as they both donned NYPD hats. Japanese native and fan favorite Tsuyoshi Shinjo, wearing an EMS hat, also stood with his American teammates, lending his support.
Baseball once again proved to be a microcosm of American life. Players from all walks of life - representing the globe - came to this country in search of success and a promising future. America is the land of opportunity and nothing personifies this concept as much as baseball, which is truly an international game. This country, after all, was built in similar fashion to baseball - through the strength of its diversity.
Monday night gave American people hope, regardless of their fondness of sports or baseball in particular. Bringing baseball back is a step to restoring all that we lost Sept. 11.
Franco and the Mets must continue to play in an attempt to bring some happiness to the otherwise depressed, despondent New Yorkers. Baseball is one of the positives in New York. Hopefully it will be a salve to the millions of grieving New Yorkers.
As for the fate of Franco on this drab September night in Pittsburgh, his birthday did bring at least one present. After he pitched a scoreless eighth inning, the Mets scored three runs in the top of the ninth to take the lead for good and give Franco his sixth win of the season.
After the game, tears were visible on Franco's cheeks, and his eyes were buried underneath a FDNY cap. And as he concluded his interview - that dealt little with his win - he walked away in a FDNY pullover jacket with his name emblazoned on the breast.
It was easy to tell that he would give up this and every win in his career to see whole again the city that he loves.