Women's golf opens season ranked 4th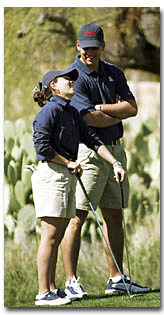 file photo
UA golfer Cristina Baena stands with her coach, Greg Allen, earlier this year. Baena is out for the year with an injury while her No. 4 ranked teammates shoot for a title.
Wednesday September 19, 2001
When the Wildcat women's golf team tees off Monday at the NCAA Fall Preview in Auburn, Wash., it will mark the first time in more than a year they haven't been ranked in the top two in the nation.
After losing two critical players from last season - first-team All-American Natalie Gulbis, who went pro after just one season at UA, and senior Christina Baena, who fell prey to injury - head coach Greg Allen isn't surprised by the lower-than-usual expectations.
"I think (the ranking) is pretty fair," Allen said. "Losing Gulbis and Baena leaves a lot of question marks for us. We're kind of unproven as a team right now."
But not all is lost.
Sophomore Lorena Ochoa leads the charge as the top-ranked player in the country and reigning National Collegiate Golf Association Player of the Year. Ochoa led the team and the nation in scoring average last year with a stroke average of 71.33, which helped the UA capture six team titles - including the program's second consecutive Pacific 10 Conference and NCAA West Regional team championships.
Despite coming up just short of becoming Arizona's fifth NCAA individual champion last season - Ochoa lost in a sudden-death playoff to Duke's Candy Hannemann - Allen thinks Ochoa's ranking is justified.
"Any time Ochoa's in the lineup, I like our chances," Allen said.
In addition to her NCGA Player of the Year honors, Ochoa was also named NCGA Freshman of the Year and Rolex College Golfer-of-the-Month on three separate occasions. She became only the third golfer to receive the honor three times in the same year, joining prestigious company - Tiger Woods and former UA standout Jenna Daniels.
Ochoa captured last year's Golfstat Cup - awarded to the player with the nation's lowest scoring average - and was named first-team All-America after winning four individual titles. In her spare time, she participated as an amateur on the Ladies Professional Golf Association tour in the Dr. Thompson Rainbow Invitational - one of the LPGA's four major tournaments - and finished 21st.
Allen said Ochoa has help, as he expects the return of sophomore Julia Kraschinski to help compensate for the absence of Gulbis and Baena. Kraschinski placed second in the 2000 NCAA Championships but sat out most of last season with an injured back.
"(Krachinski's) playing good in practice, striking the ball well," Allen said. "She seems to be in pretty good shape. I'd say she's 100 percent."
Although this year's team lacks experience, Allen said the team can make up for it with unity.
"Last year, we learned team chemistry has a lot to do with the game at the college level," Allen said. "It's all about the team chemistry, and I really like what we have going right now. I feel like we have a really good chance at a national championship."
Next week's tournament marks the debut of new assistant coach Holly Carriker. Despite coming to UA less than two weeks ago, Allen said she's settled in well with the team.
"(Carriker) brings a lot of knowledge of the golf swing, and her desire to win," Allen said. "She wants to win as bad as the team, so she fits right in."
The Wildcats were slated to kick off their season last weekend in Albuquerque, N.M. at the Dick McGuire Invitational, but withdrew due to last week's terrorist attacks.