Afghans told to be ready for holy war against United States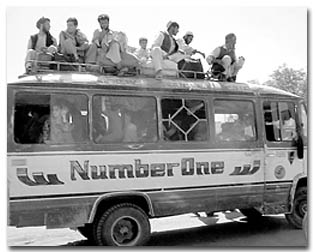 Associated Press
Afghan refugees sit atop a bus with their belongings while leaving Kabul, Afghanistan, yesterday. Taliban leaders, warning of a possible U.S. attack, urged Afghans to prepare for a holy war.
By Associated Press
---
ARIZONA DAILY WILDCAT
Wednesday September 19, 2001
KABUL, Afghanistan - The hard-line Taliban said God would protect it if the world tried to "set fire" to Afghanistan for sheltering terrorist suspect Osama bin Laden, and in comments broadcast yesterday also called on all Muslims to wage holy war on America if it attacks.
Hundreds of Islamic clerics were gathering in the Afghan capital to discuss conditions for extraditing bin Laden to a country other than the United States, a Pakistan government official said. The clerics are expected to meet today, said Hamdullah Nomani, the mayor of Kabul and host of the gathering.
The conditions, including international recognition of the Taliban government and the lifting of U.N. sanctions, were discussed Monday in Kandahar, headquarters of the Islamic militia that rules most of Afghanistan, the Pakistani official said on condition of anonymity.
The Taliban, who say bin Laden was wrongly implicated in the Sept. 11 terror attacks on the United States, urged the people of Afghanistan to prepare for a jihad, or holy war, against America, the official Bakhtar News Agency reported yesterday.
"If America attacks our homes, it is necessary for all Muslims, especially for Afghans, to wage a holy war," Mullah Mohammed Hasan Akhund, the deputy Taliban leader, said Monday, according to state-run Radio Shariat. "God is on our side, and if the world's people try to set fire to Afghanistan, God will protect us and help us."
Since taking control of most of Afghanistan in 1996, the Taliban have declared holy wars against the northern-based anti-Taliban alliance, Russia and Iran, but never the United States.
The Taliban government is only officially recognized by three countries: Pakistan, Saudi Arabia and the United Arab Emirates.
The Taliban's foreign minister, Wakil Ahmed Muttawakil, condemned the violence within hours of the attacks in New York and Washington but said it would have been impossible for bin Laden to carry out the assaults. Bin Laden lacks the facilities for such an elaborate operation, he said.
Since then, the Taliban's leader, Mullah Mohammed Omar, who has declared himself head of all Muslims, has defended bin Laden and accused the United States of pointing the finger in his direction because its investigators have been unable to come up with a real suspect.
Many Pakistanis living along the 1,500-mile border with Afghanistan promised to join the jihad against America, and possibly their own government, if there are retaliatory strikes.
"Until now, only one World Trade Center has been destroyed," demonstrators shouted in unison in English. "But we will destroy all of America. We will die for Taliban. We will die for Islam. We will die for Osama."