Johnson spreading the wealth
By Kamy Shaygan
---
ARIZONA DAILY WILDCAT
Monday September 24, 2001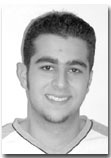 Ê
Kamy Shaygun
When the final whistle blew ending Saturday night's game at Arizona Stadium, it was apparent the high-powered offense UA head football coach John Mackovic promised when he was hired in December had arrived.
The Arizona offense posted 441 total yards en route to a 38-21 victory over the University of Nevada Las Vegas, making Mackovic's Arizona record a perfect 3-0.
Junior quarterback Jason Johnson completed passes to nine different receivers - eight in the first quarter alone - and finished the game with 247 yards passing and three touchdowns.
"I think that's just a credit to all the different players we have on our team," Johnson said. "(Offensive coordinator Rick) Dykes and Coach Mackovic just break the game down so easy, it's just a quick decision for me and our guys."
Mackovic had nothing but praise for the junior quarterback after the game.
"One thing is for certain - he does understand what we're doing," Mackovic said. "He likes the game, likes the offense, and he's easily coached to do the things that we think are important to move the ball. He knows when to take a deep throw and go for it, and when not to. He's getting so much better in that regard."
Mackovic was oblivious to the fact that Johnson hit eight receivers in the first quarter.
"That's neat. I didn't even think about that," Mackovic said. "I wasn't even keeping score, to be honest. I just wanted to move it around. I wanted (UNLV) to have to play everybody, and they did."
Junior wide receiver Bobby Wade - who caught two touchdown passes in the victory - said he credits the success of the offense to Johnson and his playmaking abilities.
"We have a great quarterback (and) a great offensive line, which makes it able for the quarterback to sit back and breathe," Wade said. "He's been sitting back in the pocket hitting wide receivers, throwing catchable balls - I can't say anything bad about him. We're just excited to play with a quarterback like Jason."
This year's Wildcat team seems to acknowledge different receivers more than past teams have. In fact, it took 10 games last season for former tight end Brandon Manumaleuna to catch a touchdown pass. UA's current tight end, James Hugo, caught one Saturday.
"We're just spreading the ball out so much," Wade said. "It's exciting for us because it allows us to be more fresh once we get that deep pass. That's a big plus for our team."
Senior wide receiver Malosi Leonard agreed.
"Jason is like another coach down there," said Leonard, who finished with 75 receiving yards on four catches. "He sees exactly what the coaches see, and he puts the ball where it needs to go. You look into his eyes and he's not scared of anyone.
"He knows exactly where to go with every ball. So when someone has that much confidence in the huddle, that gives you that sense of confidence and that sense of urgency that we're about to get something done."
Although Leonard finished last season with only 10 receptions, he is becoming one of Johnson's favorite targets in 2001.
"I know that Jason has a lot of confidence in him, so he will continue to be a player that will make big plays," Mackovic said. "(Leonard) runs good routes, he's smart and he likes to compete."
Johnson's stellar performance even caught the eye of UA athletic director Jim Livengood.
"Jason's been phenomenal," he said. "He has players on his team that absolutely believe in him. That's the ideal situation for a quarterback."