Makeshift hotel-dorms lacking appropriate security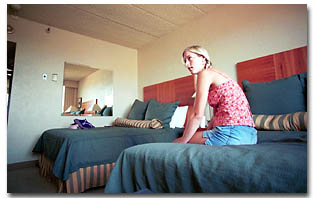 RANDY METCALF/Arizona Daily Wildcat
Elementary education freshman Emilie Weightman sits on a bed in her room at the Four Point Sheraton hotel,1900 E. Speedway Blvd., yesterday afternoon. Students and parents are concerned with a lack of hotel security guards as well as the hotel's distance from campus.
By By Amy Maltby
---
ARIZONA DAILY WILDCAT
Wednesday August 22, 2001 |
Students, parents upset with hotel safety, distance from campus
Students relocated to hotels due to the housing shortage might enjoy the luxurious surroundings, but many of their parents are concerned about hotel security.
Lindsey Lakia, a freshman pre-business major whose mother is an attorney, said her parents are "not happy at all" about her present accommodations at the Four Points Sheraton, 1900 E. Speedway Blvd.
Lakia said her mother thinks the current housing arrangement is "not what she felt she contracted for."
The parents of Melissa Howard, a journalism freshman, have similar reservations about their daughter living in a hotel instead of a dorm room.
"They hate it," Howard said. "They just want me on campus, closer to other students."
Janet Hare, director of sales for the Four Points Sheraton, said security in the hotel is sufficient.
She added that the Four Points is equipped with security cameras in all hallways, elevators and common areas. The cameras are monitored 24 hours a day.
Hare also said the Four Points contracts an outside security company to patrol the property from 11 p.m. to 6 a.m. The security guards monitor the property, walk the floors and conduct scheduled checks of the entrances.
Hare added that at least two Four Points employees act as security in the hotel at all times.
However, students frequently returning to the hotel past 11 p.m. from sorority rush this week say they have not seen any security guards in or around the hotel.
When asked if she had seen any security guards, Lakia said, "Never."
Howard, too, noticed a lack of guards. She said as far as she knew,
"There is no security."
Neither Howard nor Lakia were given information on how to contact hotel security in case of an emergency.
Commuting to and from campus, especially at night, is a concern to students living at the Four Points. Students participating in rush were provided with transportation assistance to and from the hotel, provided by the Panhellenic
Council.
Emilie Weightman, an elementary education freshman, said the rides were "greatly appreciated." Lakia, who also participated in rush, agrees.
"They (Panhellenic Council) were great," Lakia said.
Hare does not view security around the Four Points as a problem. She said that because the hotel is near campus, the number of University of Arizona Police Department patrol cars around the hotel is high.
"UAPD are very well represented around here," Hare said.
Hare said the Four Points established an agreement regarding security with the university last year, when a similar housing crunch had first forced the university to seek alternate housing.
Hare said both Four Points management and university administrators are pleased with the agreement.
"There's a good comfort level on both sides," Hare said.
James Van Arsdel, director of housing for the Department of Residence Life, was unavailable to comment.